Red Stag Materials has won a place on the ESPO 250_20 Road Repair Materials Framework, allowing them to reach more public sector clients with exclusive cold asphalt solutions.
The news comes after the company, which was only established in 2018, acquired the exclusive UK distribution rights to cold asphalt solution, EZ Street, a product already in use on the American market.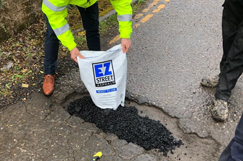 Red Stag Materials said EZ Street enables 'permanent pothole repairs to be carried out by a single person, without the use of expensive heavy plant and allows for them to be useable immediately'. It can also be bulk bought and safely stored for up to 12 months.
ESPO is a customer-focused, professional buying organisation, that is committed to passing savings onto the consumer.
Grant Shewan, managing director of Red Stag Materials said: 'We are very pleased to have been accepted onto the ESPO framework, and hope that through this, we will be able to pass on the many benefits of our high quality products such as EZ Street to public bodies and institutions.
'The product will not only enable public sectors to go further with their budgets by using an extremely cost-effective solution, but EZ Street also substitutes the diesel that is found in many cold asphalt solutions for bio-fuel, meaning that it is a much more sustainable and environmentally friendly pothole solution.
'We have already worked with local authorities and councils up and down the country to provide a solution to the pothole problem that is both efficient and effective, and we are looking forward to seeing how we can expand that through the ESPO framework.'
The company said it has already been able to supply local government in this country with hundreds of tonnes of EZ Street Asphalt. The material was particularly useful during the restrictions and opportunities presented by lockdown.