Fatalities on the strategic road network (SRN) have fallen to a level last seen in 2014, new statistics suggest.
Highways England chief executive Jim O'Sullivan told Highways that a total of 209 people died on the SRN in 2019, according to provisional figures.
This represents a cut of 16.4% on the previous year's figure and follows four consecutive rises in fatalities on the network, from 2014 (211 fatalities) to 2018 (250).
Mr O'Sullivan, who announced last week he that he would be stepping down next year, told Highways that the organization was 'pretty pleased' with the reduction in fatalities and that safety improvements were his proudest achievement during his tenure.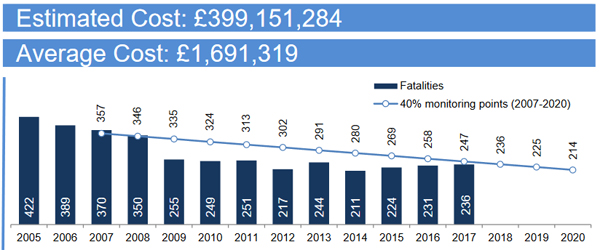 The 2019 figure is also below the trajectory required to achieve a 40% fall by the end of 2020 (against the average for 2005-2009) and is in fact below the implied figure for 2020, which is 214 fatalities.
However, annual fatalities on the network were significantly below this trajectory at the beginning of the last decade and have at best flatlined since.
If confirmed, the 2019 figure would mean that there were a total of 2,322 fatalities on the SRN during the decade – an annual average of 232. The average for the last two years is 230, with a similar figure for the last five years.
Highways England has a Key Performance Indicator target of a 40% cut in the number of people killed and seriously injured by the end of 2020.
The Office of Rail and Road has said that reduced traffic as a result of the pandemic means that this target is likely to be met.
A Highways England spokesperson stressed that the figure was provisional and subject to confirmation, with final casualty data for 2019 expected next month.
The fall in fatalities might be seen as something of a vindication for Mr O'Sullivan, who has been under fire over road safety and the safety of smart motorways in particular.
Explaining the timing of his departure, he told Highways 'You should [hand over the reins] on a straight road in daylight, not in the dark in the rain.'