Transport Scotland and the companies that operate its trunk road network have launched a roadworker safety campaign, asking drivers to help stamp out the 'shocking' levels of abuse suffered by their workers.
BEAR Scotland, along with Scotland TranServ and Amey, have launched the campaign alongside Transport Scotland after a report revealed the abuse and threats their workers had experienced in the last year, including three quarters of workers being verbally abused.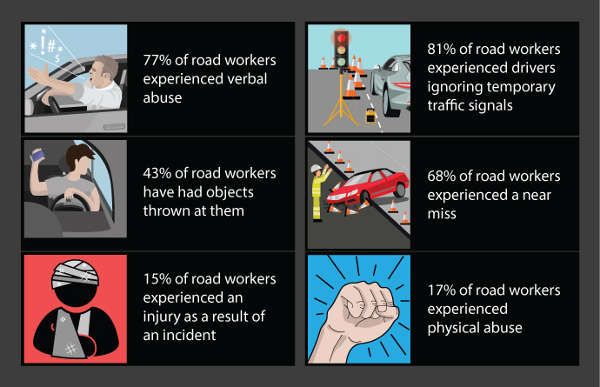 The campaign has gathered support from a number of national motoring and worker safety organisations, including the RAC.
Scotland TranServ, a joint venture between Balfour Beatty and Mouchel that provides management and maintenance services in South West Scotland, found that:
77% of its roadworkers had been verbally abused
43% of its workers have had missiles thrown at them
17% of its workers had been physically abused, and
15% of its workers had received an injury as a result of an incident
The types of missiles reported as having been thrown from passing vehicles included eggs, bananas, beer cans, bricks and bottles of urine.
Andy Fraser, Scotland TranServ's operating company representative said: 'More than two-thirds of our employees work on the trunk roads in the south west of Scotland every day. Their accounts of dangerous driving and the missiles thrown at them are concerning. Our operatives are real people, with real lives and real families; families who want their partners and parents to come home safely at the end of the working day.'
Bear Scotland, which operates in the North West and North East of the country, found that:
86% of workers surveyed had experienced road users ignoring red lights.
73% of respondents experienced motorists entering the works safe-zone area in the past year.
75% of employees received verbal abuse from passing motorists in the past year.
Nearly one out of three road workers experienced missiles being thrown towards them in the past year by passing motorists. This included bottles of juice, coffee cups, eggs, foam bullets, food wrappers and banana skins – as well as reports of bottles of urine and even a dirty nappy.
A number of instances were reported of threatening behaviour being made to roadworkers on road closure points.
Eddie Ross, on behalf of BEAR Scotland covering the North West of Scotland, said: 'We understand that no one likes being held up at roadworks and we try hard to minimise disruption as much as possible.
'However, the behaviour of a small minority of passing drivers is unacceptable. Ironically, our team during the winter are, quite rightly, considered to be winter heroes for keeping roads safe during snow conditions. At other times, when they are trying to keep roads safe by repairing them, they are subjected to abuse.'