The Queensferry Crossing will partially close overnight this weekend to allow for the final calibration of structural health monitoring sensors.
One carriageway of Queensferry Crossing traffic at a time will be diverted over the Forth Road Bridge, which the new bridge replaced as a crossing for general traffic.
The load verification test is one of the last remaining site activities for contractors Forth Crossing Bridge Constructors (FCBC).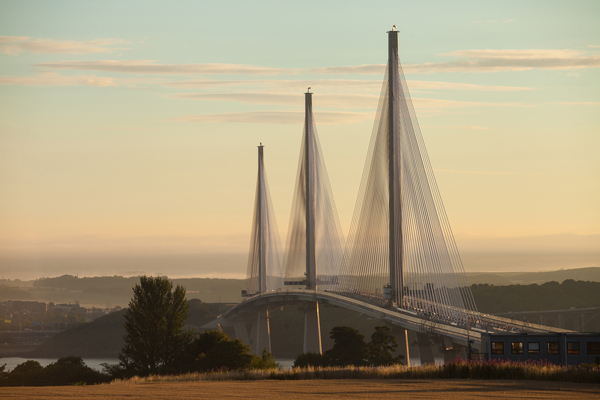 A Transport Scotland spokesperson said: 'This test will see a number trucks of known weight driven over the Queensferry Crossing in both directions. Data recorded by the sensors from this exercise will allow us to implement final calibrations to this equipment where necessary.
'In order for this testing to be carried out we'll have to restrict traffic on one carriageway at a time. Discussions between Transport Scotland, FCBC and the Trunk Road Operating Company have concluded that the simplest option with least disruption to road users is to use the Forth Road Bridge as a diversion route.
'As this work is being undertaken over a single night, we don't anticipate that it will cause any congestion problems.'
Six trucks weighing 44 tonnes each, with two trucks in each lane, will run a total of four times across the bridge in each direction, travelling at 15 mph.
The northbound carriageway closure will take place between 10pm on Saturday and 2am on Sunday. The southbound closure will follow and all traffic management is due to be removed by 6am on Sunday.
Transport Scotland said that the Forth Road Bridge is subject to traffic restrictions during high winds and that if the weather forecast indicates that such restrictions may be a possibility at the weekend, then the test will be postponed until the following weekend.
Other works that FCBC will be completing this month include final witness testing of mechanical and electrical equipment, remediation of site compound areas and vacation of the site. It will continue to have a role, to rectify any defects that arise, until the end of the defects notification period on 30 September 2022.
Amey currently maintains the carriageway over the Queensferry Crossing (surfacing, drainage and safety barriers), but not its structure, as well as the Forth Road Bridge.
BEAR Scotland will take over Ameys's maintenance responsibilities on both bridges from Sunday and the Queensferry Crossing structure at a later date.