Tarmac has secured an extension to its major highways maintenance contract with Norfolk County Council worth up to £40m.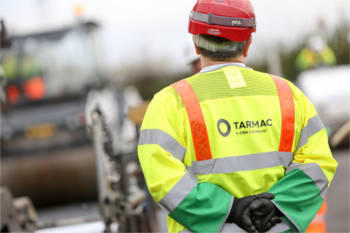 The company originally won the contract in April 2014 for an initial period of seven years, with the option of four extensions. Tarmac has now secured the first of those extensions, which will run to 2022.
Peter Hyde, director of Tarmac's Highways Services business, said: 'The award of this extension to our major highways contract with Norfolk County Council demonstrates the collaborative hard work and commitment of our colleagues both at Tarmac and Norfolk to delivering a first-class service for the county's road users.
'Over four years we've together delivered real innovation and improvements on the local road network, reflected in our excellent customer satisfaction scores, and we are proud to be continuing our successful partnership.'
To win the extension Tarmac successfully delivered against a set of key performance indicators, including health and safety, innovation, collaboration, service delivery and resident satisfaction,
Cllr Martin Wilby, chair of Norfolk County Council's Environment, Development and Transport Committee, said: 'When the contract was established four years ago it included a series of measures and incentives, such as this automatic contract extension, to promote good performance.
'Norfolk County Council officers meet regularly with Tarmac to ensure targets are met and a successful service is delivered. This achievement is a testament to the collaborative working relationship that has been established and we look forward to this continuing in the future.'
The contract covers integrated highways services including the maintenance and resurfacing of roads and pavements, gully cleansing, grass cutting and bridge and structures maintenance.
Tarmac has also added value through community activities such as the employment of local apprentices on industry accredited training programmes, helping young people into work via the Norwich for Jobs programme and providing employment support through a network of STEM ambassadors.
Tarmac also works closely with the county council's road casualty reduction scheme by educating school children about cycle safety and the dangers of HGVs, and sponsors the annual Norfolk and Norwich Festival.