Transport for London (TfL) has warned that London's transport assets, including bridges and tunnels, face closure due to the ongoing multi-billion funding crisis sparked by COVID.
'Asset closures and restrictions would be likely on our road network with a high risk of unplanned bridge and tunnel closures', TfL said, while rail services and assets were likely to degrade.
Following the loss of fare revenue during lockdown, TfL said it may not have enough cash to fund even the 'managed decline' of its infrastructure after ministers refused to provide new funding and its financial position deteriorated further.
The warning, contained in a new assessment from the transport authority of its funding options, follows comments from mayor Sadiq Khan that 'levelling up Britain must not come at the expense of levelling down London'.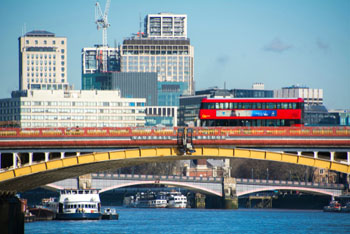 The paper assesses the implications of reduced funding from 2022/23 to 2024/25, the period covered by the Government's recent Comprehensive Spending Review (CSR), which confirmed that TfL would not receive any additional capital funding.
It notes that 'there remains significant uncertainty on the level of available funding over this time period, which would be determined by the pace and level of recovery of passenger demand and the final level of government funding'.
It sets out potential required savings 'necessitated by our legal requirement to balance our budget', which it says represent the 'Managed Decline' scenario in TfL's Financial Sustainability Plan (FSP) earlier this year.
'We have always been clear about the severe impacts to our service and the wider economy were Managed Decline to take place, but in the absence of capital and revenue funding pledges from Government, we must now move to planning for this scenario,' it states.
However, the paper notes that since TfL's submission to the CSR process, its projected annual funding gap for both 2022/23 and 2023/24 has risen by £500m to £1.7bn and £2.7bn respectively and from £2bn in 2024/25 to an expected £2.2bn.
It adds: 'Dropping to Managed Decline levels of capital investment alone does not resolve the funding gap. We will also have to reduce service levels across our network, reduce borough funding, implement asset financing options, and negotiate the rephasing of repayments of the Crossrail £750m loan from the Department for Transport (DfT).'
The paper states that Managed Decline levels of capital investment would mean that only projects already underway, or those required to be compliant with safety and other statutory regulations would continue but there would be no new investment.
'Major outcome areas for TfL would be impacted, with no proactive progress towards Vision Zero (safety), decarbonisation, improving air quality or active travel to support a shift towards more sustainable modes.'
It adds: 'The Mayor's Transport Strategy (MTS) would be largely undeliverable without this investment.'
However, Managed Decline assumes that current commitments are honoured, including the rolling stock contracts for the Piccadilly Line and the Docklands Light Railway.
The paper states: 'We have designed the Managed Decline scenario to ensure the network remains as safe as it is today and consistent with our regulatory responsibilities, but operability and reliability would be compromised. Asset closures and restrictions would be likely on our road network (with a high risk of unplanned bridge and tunnel closures).'
It notes that to close the funding gap completely TfL would have to drop below Managed Decline, 'with these impacts currently being investigated further so we can effectively understand and manage the asset risk from this level of renewals'.
Last week Mr Khan warned that TfL's latest emergency funding deal expires on 11 December, while TfL is still dealing with 'an unprecedented financial crisis caused by the pandemic'.
He warned: 'Unless the Government provides the long-term funding needed to maintain our public transport network, there will be no choice but to make significant cuts to services just as demand is growing again.'
He added: 'I support greater transport investment in regions across the country, but levelling up Britain must not come at the expense of levelling down London. There can no London recovery without a properly funded public transport network in the capital, and there can be no national recovery without a London recovery.'
A DfT spokesperson described the warnings about managed decline as 'empty threats' and needless sabre-rattling'.
'We have repeatedly shown our commitment to positive discussions, and look forward to working closely with the mayor to secure a fair deal.'