Nearly two thousand drivers had their vehicles damaged by potholes during lockdown despite road traffic plummeting, according to the RAC.
Its data shows 1,766 drivers suffered pothole-related breakdowns between April and June. Government figures for the same time period show motor traffic volumes were down by as much 60%.
The RAC said drivers are now 1.5 times more likely to suffer a pothole breakdown than in 2006, when it first started collecting data.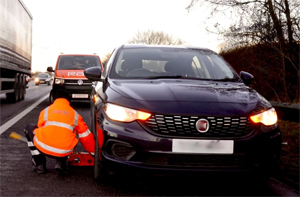 Nicholas Lyes, RAC head of roads policy, said: 'We would have hoped to have seen a far bigger drop in the share of pothole-related breakdowns than we would do normally at this time of year, but instead it was just the same as usual.'
The RAC is calling for revenue from car tax to be ringfenced to pay for local roads maintenance.
Cllr David Renard, the Local Government Association's transport spokesman, said: 'Extra government funding has helped but our local roads are deteriorating at a faster rate than can be repaired by councils. It would cost more than £11bn to clear our current roads repair backlog.
'With devolved infrastructure and transport budgets and long-term funding, councils can improve our roads and deliver the infrastructure improvements that allow people to move around in less carbon intensive and more sustainable ways.'
This article first appeared on localgov.co.uk.