The UK's biggest traffic and transport show, Traffex and Parkex, has announced new dates for 2021 when it will return to Birmingham's NEC on the 15, 16 and 17 June.
As our #highwaysheroes and #transportheroes continue to keep the network functioning in support of other key workers, including our brave NHS and social care staff, throughout this national crisis, the Traffex team salutes them and looks forward to celebrating their amazing work together next year.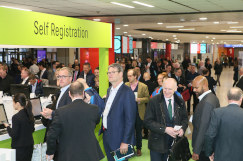 In a message to the sector, Traffex director, Craig Donovan, said: 'We hope you are well and keeping safe. Firstly, we want to thank the transport and parking industry for all they have been doing behind the scenes to allow our NHS staff and other key workers to move around safely during this challenging time.
'Today, we are pleased to announce the new dates for Traffex-Parkex 2021. We also wanted to reassure you, that the team behind Traffex and Parkex are here to support the industry, so please do not hesitate in contacting us if there is any way we can help.
'In addition, following feedback from Traffex and Parkex last year, the team have been working tirelessly with the sector on our updated themes, topics and our exciting new Traffex-Parkex 'key pillars' for 2021. We will be announcing these in due course, so keep an eye out for them.
'On behalf of the Traffex & Parkex team, we wish you, your families and colleagues safe and well over this difficult time. We are very much looking forward to working with you and seeing you at Traffex-Parkex next year.'