Launching its winter service season, the Scottish Government announced the trunk road fleet now boasts a record number of gritters and new ice sensors will be installed on the Queensferry Crossing.
Infrastructure secretary Michael Matheson suggested the administration had learned a lesson from last winter when the crossing was closed following reports of ice falling on vehicles.
He was criticised for previously suggesting that an earlier incident was 'a result of a very specific set of weather conditions' and was unlikely to recur.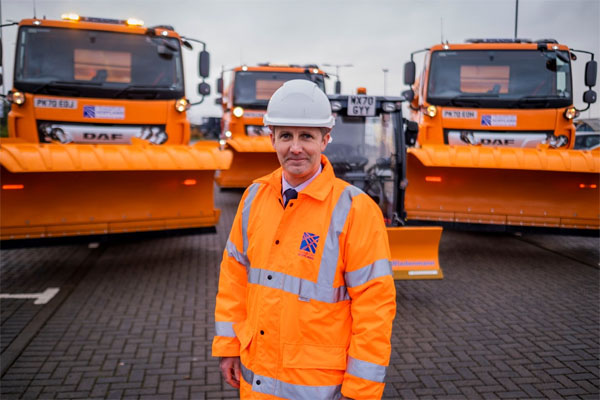 Transport Scotland described the installation of sensors on the Queensferry Crossing as 'part of a number of measures to improve the detection and management of ice accretion'.
'We continue to make improvements to the wider winter service, building on lessons learned during previous winter periods,' officials said.
Mr Matheson, cabinet secretary for transport, infrastructure and connectivity also appeared to concede that lessons had to be learned after last year's closure of the Queensferry crossing.
He said: 'Our teams always look to learn lessons from previous winters and have once again worked hard throughout the year to ensure we are well prepared for when the worst of the weather arrives.
'This ranges from the use of new technology, like ice accretion sensors and motorway access units, to trialling new treatments and adding more gritters to our fleet.'
The country's winter service fleet will now feature 230 gritters operating from over 40 depots around the trunk road network, as well as incident response vehicles, and includes an enhanced patrol provision around parts of the network.
Transport Scotland said the expanded fleet comes as a result of the new trunk road management contracts and would help enhance its response to snow events, with a particular focus on vulnerable locations.
Other improvements include:
installation of Motorway Access Control units on the M80 to advise road users of restrictions and closures
the ongoing live trials of 50:50 pre-wetted salt treatments are being moved to the M8 to utilise the latest combination spreader from Germany;
further development of a winter service on-road testing facility, which involves a range of innovative weather stations and sensors on the trunk road network;
the use of specialist footway spreaders to improve accessibility around parts of the trunk road network;
continued trial of the world's first all-electric spreader, which will undertake patrols on the Queensferry Crossing and Forth Road Bridge.
Transport Scotland said it had also carried its annual desk exercises with partner agencies to test winter service operations over a period of severe winter weather within an ongoing COVID-19 environment.