The Welsh Senedd has backed plans to make 20mph speed limits the default limit in residential areas and expects to implement the change by 2023.
The motion received overwhelming cross-party support in the Senedd, with 45 out of 60 members in favour.
Power over national speed limits was devolved to Wales in 2018. Welsh ministers have powers to amend primary legislation to introduce a national default speed limit of 20mph on restricted roads, which are defined as roads with street lights at least every 200 yards.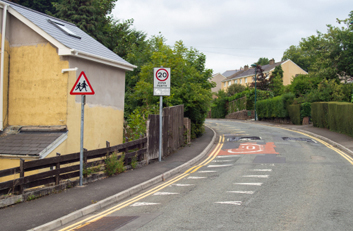 The Welsh Government will now consult on its plans, which will require a further Senedd vote before they can be implemented.
A report commissioned by the Welsh Government recommended 20mph replace 30mph as the default residential area speed.
The 20mph taskforce responsible for the report, chaired by transport consultant Phil Jones, stated there was 'overwhelming evidence' that lower speeds result in fewer collisions and reduced severity of injuries, and the move was likely to receive public backing.
The report stated there was 'consistent evidence that casualties are reduced when 20mph limits are introduced and noted that 'any speed reduction leads to a positive outcome'. It added that the impact on journey times 'is likely to be slight'.
Mr Jones told Highways that the rest of the UK and many countries around the world would be watching the Welsh example closely.
'I was absolutely delighted to chair the taskforce, and I have seen there has been a lot of discussion on social media around the world about the move. I think Wales is the first country to do this.'
He added that the legislative change would pave the way for local authority consultations, where the emphasis would be on justifying exceptions to the 20mph default rather than justifying 20mph.
Local authorities in the UK have the power to implement 20mph limits, but Highways understands that the Department for Transport is not currently planning a national default limit.
Only around 1% of the urban road network in Wales is currently subject to 20mph restrictions, even though most roads only serve residential areas.
'By making the default limit 20mph for restricted roads, local authorities will in future only need to identify the far fewer sections of road where a higher speed is justified. This will enable the rapid and substantial expansion of 20mph limits in a highly cost-effective way,' the taskforce report states.
The Welsh Government said 80 children were killed or seriously injured on Welsh roads in the last year figures are available for.
Deputy transport minister Lee Waters said: 'Even a 1% drop in average speeds is likely to bring about a 6% drop in casualties.
'Whilst we have made progress on reducing deaths on our roads in the 21 years of devolution, despite our considerable efforts there are still 4,000 accidents which result in injuries every year in Wales.
'The evidence is clear; reducing speeds reduces accidents, reducing speed saves lives and slower speeds in our communities improves quality of life.'
Conservative Aberconwy Senedd member Janet Finch-Saunders said the measure was 'common sense and it's a safe move'.
'While 20mph would primarily help urban areas, I am clear from communications on the matter with the first minister that progress in this area will take us closer to help tackling high-risk speed limits in rural areas,' she said.
The taskforce report stated: 'Making the change to a default 20mph speed limits in most urban areas is simple in legal terms, but the ramifications are wide and complex.
'It should be seen as a major government project, which will need strong and dedicated governance to ensure it is successfully delivered.'
The taskforce called for a series of public awareness campaigns and said it was important that the police and GoSafe are committed to enforcing 20mph speed limits, 'so that driver behaviour can begin to be changed'.