Delivery plans have been confirmed for more than £5bn of local highways, transport and active travel schemes under the Department for Transport's (DfT) City Region Sustainable Transport Settlements (CRSTS) programme.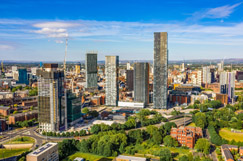 Settlements have also been published for the following Mayoral Combined Authorities (MCAs):
Greater Manchester £1.07bn
Liverpool City Region £710m
South Yorkshire £570m
Tees Valley £310m
West of England £540
West Midlands £1.05bn
West Yorkshire £830m
The total value of the CRSTS is £5.7bn with the remaining £620m apparently set aside for a settlement with North East, which 'will be eligible to work with government to agree a CRSTS settlement once appropriate governance arrangements are in place', DfT officials reiterated.
The CRSTS provides consolidated five-year settlements from tax year 2022/23 to 2026/27.
Letters have been sent out to the metro mayors confirming delivery plans for the CRSTS, detailing the schemes to be delivered and their start and completion dates.
Transport secretary Grant Shapps wrote: 'In many cases changes in timing, scope or cost of schemes can be managed locally over the 5-year settlement period, whilst maintaining local transparency and an appropriate level of Government oversight.
'You have flexibility to manage your programme within the 10% overprogramming you have proposed, but you will be required to provide updates on any changes through your ongoing reporting and as part of the annual update of your published delivery plan.
'You are responsible for managing delivery of your programme and no additional HMG funding will be provided to meet cost overruns on your agreed settlement. Any significant changes to your programme will be managed through a formal change control process with the Department.'
A slew of highways schemes are contained in the delivery plans, including upgrades to the Liverpool region's key route network, 7.5km of new on and off-road cycle routes in Barnsley and Royston, a bus priority scheme along the A61 in Sheffield, a cycle superhighway extensions in West Bradford and a five-year rolling highways infrastructure maintenance programme in the West Midlands.