Fatality rates on all lane running (ALR) 'smart motorways' have exceeded those on conventional motorways for the past two years, with 15 people now confirmed to have died on motorways without a permanent hard shoulder in 2019.
New data submitted by the Government to the Transport Select Committee also highlights that controlled motorways – where technology has been introduced but the hard shoulder is retained – are significantly safer than both ALR schemes and conventional motorways.

The Department for Transport (DfT) has provided data for the five-year period from 2015-2019, which shows that while live lane fatality rates were lower on ALR schemes than on conventional motorways during 2015, 2016 and 2017, ALR fatality rates overtook those on conventional motorways in 2018 and 2019.
In 2018, the fatality rate on ALR schemes was 0.19 per hundred million vehicle miles (hmvm), compared to 0.14 on conventional motorways. In 2019, fatality rates on both types of motorway fell, with ALR schemes recording 0.14 fatalities per hmvm, still higher than conventional motorways at 0.13.
During this period, the fatality rate on dynamic hard shoulder schemes (DHS - where the hard shoulder becomes a running lane in high traffic flow) rose six-fold from 0.03 per hmvm in 2018 to 0.18 in 2019, suggesting that a rise in fatalities on this type of motorway drove the increase on motorways without a hard shoulder, from 11 to 15.
Significantly, the fatality rate on controlled motorways was 0.07 in 2019, down from 0.11, significantly lower than on ALR and conventional motorways.
The DfT said Highways England had compiled the (annual average) figures used in the recent 'progress report' on a five-year basis 'because single-year figures are too low and variable to draw consistent conclusions from'.
The five year average fatality rates for 2015-19 were 0.15 for conventional motorways, 0.12 for ALR schemes, 0.08 for DHS schemes and 0.06 for controlled motorways.
Claire Mercer, whose husband Jason was one of the people killed on a smart motorway in 2019 told the Daily Mail: 'They are purposefully using the five-year figure rather than the two most recent years.'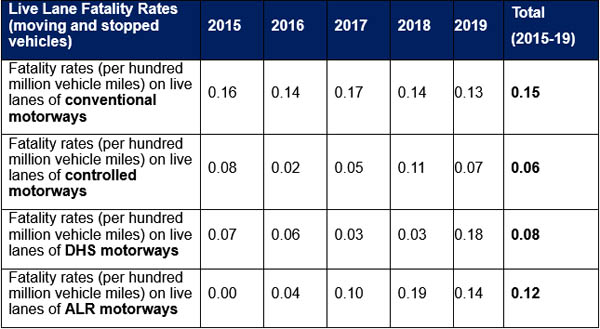 Officials said that the increase in fatalities on motorways without a hard shoulder between 2018 and 2019 reflected 'in part the increase in traffic on the motorway network generally and on these roads in particular'.
This appears to be a result both of the increase in ALR stretches of motorway and existing schemes becoming busier.
As Highways has revealed, the only five-year Post Opening Project Evaluation (POPE) to have been published showed that a smart motorway scheme on the M6 became less safe as traffic levels rose, with collisions rising by 50%.
The DfT told MPs that POPE reports for specific schemes 'will be published to compare the safety impact before and after a project is delivered'. However, Highways England has published just one new POPE report since the DfT's smart motorway stocktake in March 2020.
The failure to reintroduce the hard shoulder on Smart Motorways has and will continue to cost lives

As the evidence mounts the Transport Secretary must take action before another life is lost when it could have easily been prevented#smartmotorways https://t.co/ZMMEupMCx6

— Jim McMahon MP (@JimfromOldham) May 4, 2021