Norfolk County Council has awarded the contract to design and build the controversial £200m Norwich Western Link road to Ferrovial Construction.
The cost of the 3.9-mile dual carriageway has increased from an estimated £152.7m contained in a 2019 strategic outline business to a current estimate of £198m.
The council's cabinet has also agreed to approve the outline business case for the road, which has now been submitted to the Department for Transport.
Last year the scheme was given conditional entry into Government's Large Local Majors programme and the council said that if the outline business case is approved, 'this would provide a funding commitment from government which is expected to cover 85% of the £198 million total project costs' (£168.63m).
However, last year the council said that approval under the programme would 'unlock up to 85% of the total estimated £153 million cost of the project' and it remains unclear whether the Government will increase its contribution to cover the additional costs.
As Highways has reported, funding under the National Roads Fund, which includes the LLM programme, has been cut by approximately £2bn to pay for the additional costs of Highways England's 2012-25 Road Investment Strategy.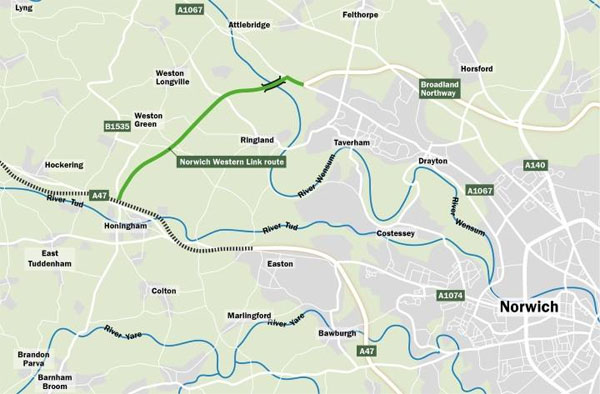 The new road would connect the western end of the Broadland Northway, which itself went significantly over budget, to the A47 trunk road.
The council said Ferrovial Construction will start work immediately alongside its existing project team to further develop the design of the road and that this work will feed into the pre-planning application public consultation, which is scheduled for the autumn. In turn, this will inform the planning application for the project, due to be submitted in early 2022.
Norfolk's cabinet member for highways, transport and infrastructure, Martin Wilby, said: 'Ferrovial Construction have a great track record in designing and building large-scale infrastructure projects and will bring specialist expertise to the project, including in relation to the design of the viaduct across the River Wensum.
'Creating the Norwich Western Link is a priority for this council and it's vital to ensuring we have the right infrastructure in place to not only tackle existing congestion and delays but to accommodate future population and job growth.'
Karl Goose, UK managing director, Ferrovial Construction, said: 'We will be bringing our expertise and experience at delivering highways projects in the UK, Ireland and around the world to provide Norfolk County Council and the region with a world-class piece of infrastructure.'
The council said the business case demonstrated that the project – also known as the Wensum Link – would 'provide high value for money, significantly reduce many journey times to the west of Norwich, improve road safety and reduce carbon emissions from vehicles'.
However, David Pett, lawyer for the Stop the Wensum Link action group, said: 'Ferrovial have many planning bridges to cross before they can lay the first tarmac. The Wensum viaduct and this scheme may be a planning hurdle too far.
'We will be watching closely to ensure that wildlife law will not be broken by disturbance of the barbastelle bat colony, the River Wensum Special area of Conservation is not compromised, and that climate laws and carbon budgets are not ignored.'