Portsmouth City Council is set to award Alun Griffiths a framework contract worth up to £70m to deliver highway and redevelopment works – more than two years since it first advertised the contract.
The works relate to a programme for which the council first sought tenders in 2018, which involved the realignment of the main route from the M275, which links the city to the motorway network.
However, following an enforcement notice issued by environment department DEFRA in relation to air quality, 'the redevelopment of the city centre and surrounding environs road, highways and associated infrastructure will not be delivered in accordance with the scheme envisaged when the original contract notice was issued,' the council said.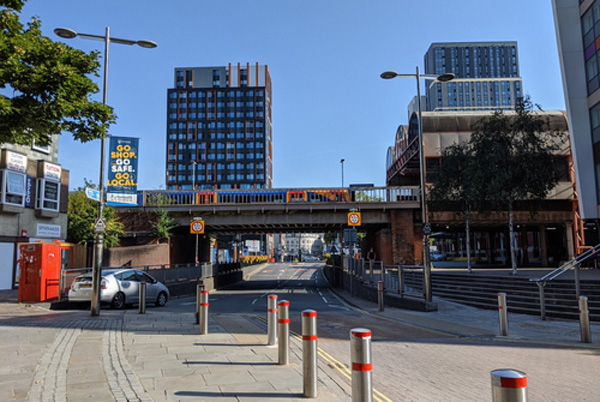 Isambard Brunel Road in Portsmouth City Centre, August 2020
Lynne Stagg, cabinet member for traffic and transportation, said: 'We're working on exciting plans to revitalise Portsmouth city centre and improve connections for walking, cycling and public transport. Alun Griffiths will play an important role in delivering this transformation.
'Improving transport options for a more sustainable future is part of our ambitious regeneration vision to bring even more growth and prosperity to our proud and historic city.'
During the procurement process and following consultation with the four shortlisted contractors, the council also took the decision to formally move from a flexible draw down contract to a 'true framework arrangement'.
Where the contract notice envisaged an open-ended contract duration linked to overall delivery of the scheme, the formal move to a 'true framework agreement' has led the council to define an extendable set term.
The council said it is 'still committed to making significant improvements to the city centre and surrounding environs road, highways and associated infrastructure including for infrastructure which serves/adjoins the city centre and is actively developing new plans for this'.
According to the contract award notice the new scope of works and services that may be contracted via the framework agreement include early contractor involvement (ECI) activities, design, planning, financing strategy, highways construction, public realm improvement and road safety works.
The total value of work, inclusive of ECI, 'could be in the region of £70m over the total allowable term, however actual values could be significantly lesser or greater dependent upon how plans for the regeneration of the city centre and surrounding environs develop'.
The framework agreement will commence on 14 September 2020 and will run for an initial term of four years, extendable in increments to be agreed up to a maximum total term of eight years.
The notice states that the value and volume of work let will also be impacted upon by the success of the council in raising finance via securing of grant funding and other means.