Infrastructure services company FM Conway has won a highway service contract worth up to £130m with the London Borough of Croydon, where it has an asphalt plant, as part of the town's £5.2bn regeneration programme.
FM Conway said it will work closely to support Croydon, which is London mayor Sadiq Khan's first 'Growth Zone', in its regeneration programme delivering highway maintenance services, public realm projects and professional services across the borough's 725km public road network.
The company stated its focus 'will be on enhancing and future-proofing the borough's roads and public spaces to ensure these are able to support Croydon's growth'.
It added: 'FM Conway will self-deliver services where possible, using its materials manufacturing facilities across London and the south of England, as well as deploying its in-house highways design, construction and maintenance capabilities.'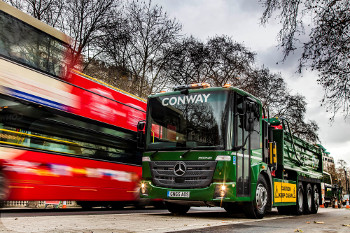 The contract will run for seven years, with a possible three-year extension. During the initial term, up to £36.7m will be set aside for road improvements and up to £50m for public realm upgrades.
James Tallon, term maintenance director at FM Conway, commented: 'The long-term nature of the partnership provides the ideal opportunity for us to continue investing in our people, materials infrastructure and technology.
'Our existing Croydon asphalt plant provides a major advantage, allowing us to get material to site quickly and minimising vehicle movements on the road.'
The partnership also includes a commitment from Croydon Council and FM Conway to support the local community 'not only in terms of better journeys but also socio-economic impact. Working through the council's job brokerage service, Croydon Works'.
It will also provide employment opportunities and training for local residents and help funding community projects.
Cllr Stuart King, cabinet lead on environment and transport, said: 'it won't just be Croydon's roads benefiting from this partnership.'
'This contract will secure maintenance for our road network for years to come, keeping our highways to an excellent, safe and reliable standard,' he added.