National Highways has launched a consultation on the latest proposals for its £1.3bn plan to upgrade the A12 in Essex to three lanes.
Last year, the government-owned company announced its preferred option of adding an extra lane to the 15-mile stretch of A12 between Junction 19 near Chelmsford and Junction 25 at Marks Tey near Colchester.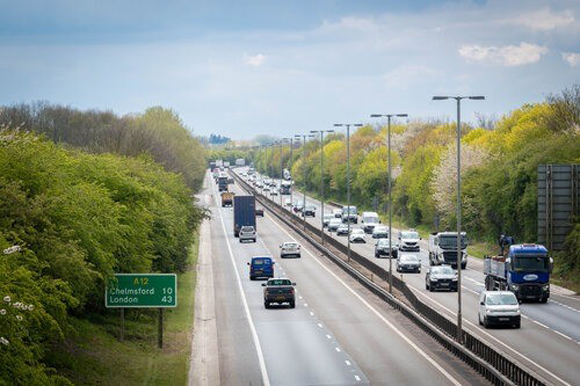 As a part of the development of the scheme, it is now undertaking a supplementary consultation on changes made to the project following feedback from the summer's statutory consultation.
National Highways said that once complete by the end of 2028, the improved A12 could reduce journey times by up to 12 minutes for the 90,000 drivers who use it daily.
In fact, the main consultation brochure, published in June, cites savings for a single journey of between four and nine minutes, depending on the time and direction of travel, with an opening year of 2027.
Project director Stephen Elderkind said the scheme will improve safety by connecting local roads via new junctions rather than turning directly onto the A12.
He said: 'Since our statutory consultation in summer 2021, we have been analysing the responses and holding workshops with stakeholders to further understand their thoughts on the proposed scheme.
'We have carried out further design work based on that feedback and are now sharing those changes. This will once again help us improve our plans and deliver the best possible road improvements for all.'
The changes include:
removal of Junction 21 southern link road, so the traffic will use a new and enhanced northern link road via Wellington Bridge to access the proposed Junction 21 alongside walkers, cyclists and horse riders
removal of proposed noise barriers through Hatfield Peverel to be replaced with improved road surfacing with better noise performance
options for gas main diversion corridors near Witham
temporary removal of a noise barrier at Market Lane to enable construction of the proposed scheme
local road interventions at Inworth Road
closure of Easthorpe Road access to the A12 (except walkers, cyclists, horse riders, emergency services and private agricultural access).
The A12 is a key economic route through Essex and Suffolk, connecting London with Ipswich and the Port of Felixstowe. Heavy goods vehicles are between 9% and 12% of the traffic on the section between Chelmsford and Colchester.
National Highways said that following the consultation, plans for the new road will be submitted to the Planning Inspectorate in spring 2022: 'Once a Development Consent Order has been granted, construction will begin in late 2023 or early 2024.'