The Scottish Government has published new guidance for cycling infrastructure, covering design and the wider planning context to support better, safer active travel.
Cycling by Design is now the 'primary reference for the design of cycling infrastructure in Scotland' and covers planning for cycle users, cycle links, crossings, junctions, and trip end facilities.
The document is intended to enable experienced designers to integrate cycling 'into a holistic and attractive built environment', and should be applied on all schemes delivering:
Cycling infrastructure
New and improved roads
New developments
Any other built environment feature where cycling should be considered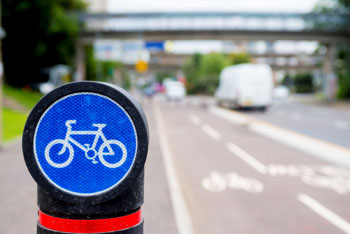 The guidance sets out design requirements, as well as providing advice on materials, construction, maintenance, safety reviews and audits.
Where design requirements are defined as 'Desirable Minimum', reductions below that level may only be applied 'where specific constraints are identified, such that the desirable minimum requirement cannot be reasonably achieved,' the document states. It also sets out an 'Absolute Minimum' design requirement.
Developed with extensive input from Sustrans and the Society of Chief Officers of Transportation in Scotland (SCOTS), the publication is a key output from the Scottish Government's Active Travel Taskforce and supports the active travel framework to 2030, as well as Scotland's net zero targets.
Minister for active travel Patrick Harvie said: 'We have a lot of work to do if we're going to build Scotland's cycling infrastructure in a consistent, high quality and inclusive way that reflects the needs of all road users.
'This is an exciting time for active travel in Scotland, with new commitments to a big increase on investment, and as we work towards our 2030 vision for walking, wheeling and cycling to be the most popular choices for shorter everyday journeys.
'As outlined in the Scottish Government's National Transport Strategy and in the updated Climate Change Plan, we need to reduce single-occupancy car use and encourage sustainable transport. High quality and accessible cycling infrastructure will be essential for encouraging the switch to active travel and helping Scotland end our contribution to climate change.'
SCOTS Chair Ewan Wallace said: 'The guidance will make our roads safer and more accessible for all our road users, and particularly to cyclists and riders of bikes past, present and many more in the future.'