Plans for one of the biggest roads projects in the north of England are gaining speed as procurement has started for the £1bn A66 Northern Trans-Pennine Project in North Yorkshire.
The construction work will be awarded in four separate packages, which are valued at a total of £771m according to a prior information notice published by Highways England.
Click on image to expand in Highways England pages.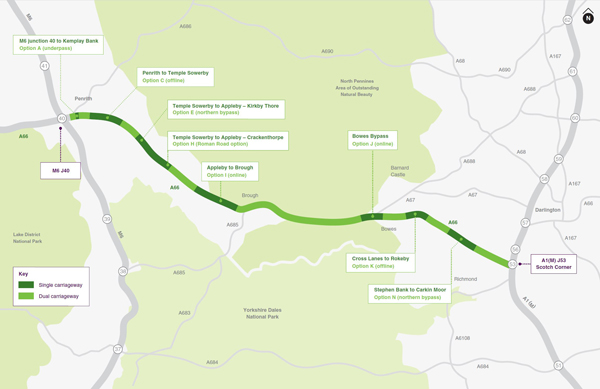 All four lots will be awarded as design and build contracts and the largest, package A, is valued at £361m.
Highways England has not yet disclosed the nature of the works in each lot, but package B is valued at £188m, while package C is worth £94m and the estimated value of package D is £128m.
Highways England is planning a virtual supplier event in September. Contractors interested in taking part are requested to email the A66 NTP Market Engagement inbox 'A66NTPProcurement@highwaysengland.co.uk' to register interest and receive a market engagement questionnaire.
The procurement notice is the latest stage in the proposals, which have gained pace since the spring when Highways England unveiled the preferred route to upgrade a section of the A66 from junction 53 of the A1(M) with junction 40 of the M6 in Cumbria into a dual carriageway to create a new strategic corridor.
'Upgrading this vital national link will not only level up infrastructure in the region but will deliver benefits up and down the country - supporting tourism and movement between our key ports,' said transport secretary Grant Shapps after the route was confirmed.
This stretch of the A66 is between these junctions is 50 miles long and a mixture of single and dual carriageway. There are 21 miles of single carriageways, which will be upgraded with five new bypasses included in the plans.
Other works in the project include enhancing capacity at the A1(M) J53 at Scotch Corner and the M6 J40 junction Kemplay Bank near Penrith, where an underpass will be constructed.
This summer, the agency then awarded an Amey/Arup joint venture a £45m commission to develop the design of the upgrade programme in the summer.
The joint venture will then transition into a technical adviser during the detailed design and construction.