The team at WJ Group say a big thank you to their transport manager, Scott Logan (pictured below), who undoubtedly earned the title Highways Hero for his tireless efforts during the pandemic helping keep his staff, their families and the wider community safe.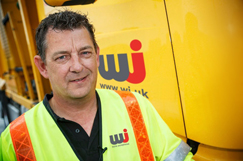 With the abundance of PPE that is currently available, it is easy to forget the difficulties it presented when the pandemic first hit.
As key workers, highways staff had to understand what additional PPE was needed, where to source it and how to distribute it to the workforce.
This is where Scott Logan excelled; working with the health, safety and wellbeing team he began contacting suppliers all over the UK and Europe to obtain the PPE needed to ensure the safety of all our staff.
This was imperative to enable the WJ Group to continue delivering the highway projects needed to help keep the UK road network running smoothly. He even worked closely with our joint venture partner in Belgium, ACBWJ, who responded by switching their production away from highway materials to hand sanitisers due to the global shortage.
In almost military fashion, Scott purchased and distributed all the equipment, spending an entire weekend on the road, driving over 1,800 miles to hand-deliver the PPE to all our depots himself.
As a result, he guaranteed WJ's more than 500 employees could continue working safely. He has continued working to sustain stock levels during this crisis and in our recent COVID-19 survey, not a single person disagreed that they were provided with the appropriate PPE to work safely.
Above and beyond, then even further
This would have been enough for some. However, as news began rolling in of global PPE shortages impacting key workers in care homes, NHS centres and many other locations, Scott went even further. He really exemplified WJ's core value of community.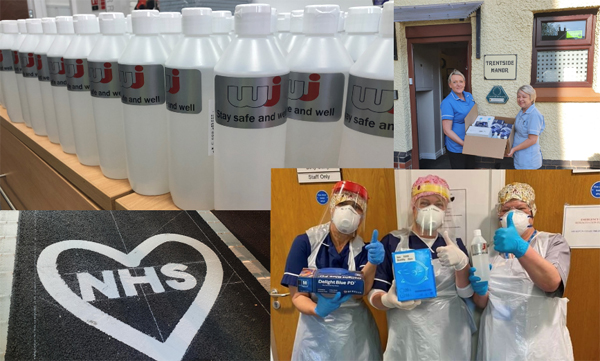 In line with our Thinking Community initiative, Scott encouraged WJ's suppliers to increase production so he could purchase extra quantities and then, working with other WJ colleagues, he identified friends or family employed in locations that were struggling. After getting the details of these places, Scott began organising the distribution of PPE to them as well.
Care packages with various PPE such as masks and hand sanitiser were also sent out to all WJ employees' home addresses so their families could be as safe as possible when going about their daily lives.
This type of thinking embodies WJ's ethos. Working with others at the company, Scott recognised that we not only have our own staff and communities to support, but also our industry communities. So, Scott began working with other organisations within the road marking and wider highways industry to source PPE and wherever needed he donated WJ's.
Working with the rest of WJ, in total he helped donate over £25,000 of PPE externally.
Colour me a winner
If all this wasn't enough, he also organised a colouring competition for children who were at home during lockdown.
Group managing director Wayne Johnston and group operations director Martin Webb judged the winner but the competition was too fierce even for these experienced operators and with Wayne and Martin only being skilled in the fine art of road lines, they decided to award £20 amazon vouchers to all entrants.
The appreciation expressed from staff, their families and the wider community was immense and clearly these efforts were a big contribution to everyone's wellbeing.
This is why Scott deserves to be called a Highways Hero. Not only did he ensure the safety of WJ staff, local communities and key workers in the health and care sector, but also our partners throughout our wider industry - truly Thinking Community and helping enhance the reputation of the entire industry.