A road widening on the A500 in Staffordshire has been completed three months ahead of schedule, Highways England has said.
Only 'finishing touches' and final landscaping on the scheme is left, although 'a small number of overnight closures will be required over the next few weeks', with a full weekend closure of the southbound carriageway from 9pm this Friday (10 July) until 5am on Monday.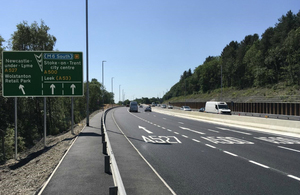 There are now three lanes of traffic in each direction, rather than the previous two, on the heavily congested road between Porthill (A5271) and Wolstanton (A527).
Highways England said the £17.5m scheme was expected to finish this autumn.
Senior project manager Michael Hillier said: 'We are delighted to have now opened these much-needed extra lanes which will improve safety and reduce delays for anyone using this very busy road.
'By improving journey times and easing congestion we will also support local businesses, attracting more investment and therefore creating more jobs. The benefits of this scheme will be enjoyed by people for generations to come.'
Cllr Daniel Jellyman, cabinet member for regeneration, infrastructure and heritage at Stoke-on-Trent City Council, said: 'The widening of the road by Highways England is a big step in the right direction and is great news for residents, commuters and businesses. It will cut queues, reduce pollution and speed up journey times, which will increase economic activity.
Haulage firm boss Barry Proctor, whose business is based just off the A500 at Talke Pits, said: 'Highways England have done an excellent job on the A500, the work has progressed quickly with very little disruption to traffic. These extra lanes will reduce the amount of time our vehicles sit in traffic which will be a boost to mine and many other businesses.'
Highways England said that for the majority of the works two narrow lanes of traffic have been kept open on the A500 – which carries around 85,000 vehicles a day.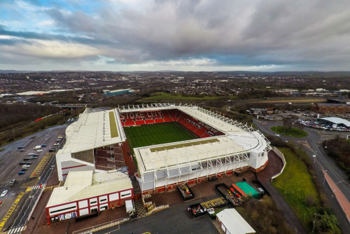 Significantly reduced traffic numbers on the road during the lockdown enabled work to be carried out on the central reservation during the daytime rather than overnight, with the road reduced to one lane in both directions
This meant a longer working window to speed up works and reduced the impact of noise on residents.
Highways England said other benefits of the widening scheme include:
reduction of the speed limit from 70mph to 50mph, which is consistent with the majority of the A500.
the steel central reservation barrier has been replaced with a concrete one which helps prevent cross-over accidents and reduces the need for future maintenance
a new pedestrian and cycle path along the northbound carriageway which will link in with cycling facilities on the city council's new Stoke Etruria Valley Development
Since work began on the scheme in February 2019:
more than 175,000 working hours have been completed
655 metres of concrete safety barrier have been installed in the central reservation – almost six times the length of Stoke City's football pitch (pictured)
380m of retaining wall metal sheets have been erected – which is 20 times the height of the Oblivion rollercoaster at Alton Towers
over 40,000 tonnes of crushed stone, sand and gravel have been put down - the weight of over 800 HGVs
616 people have worked on the project