Bristol City Council has closed Bristol Bridge to general motor traffic under plans to improve air quality and make it easier for people to catch the bus, walk and cycle in the city.
The changes prevent through traffic from using the bridge. Baldwin Street and Union Street are also closed to through traffic to prevent these roads being used as an alternative route.
The council has also given priority to buses, taxis, cyclists and pedestrians travelling through Bristol city centre with a package of major transport improvements aiming to ease congestion and pollution.
It said these plans were already in the pipeline but have been accelerated to help people safely navigate the city during the COVID-19 pandemic.
The changes include new protected bike lanes with temporary bollards on Lewins Mead, Park Row, Upper Maudlin Street and Marlborough Street and traffic reduced from two lanes to one along much of these roads. They also include the pedestrianisation of the Old City.
The council has implemented the restrictions through an experimental traffic regulation order but said its long-term ambition is to make the new road layouts permanent. A six-month consultation period has now begun for the Bristol Bridge closure.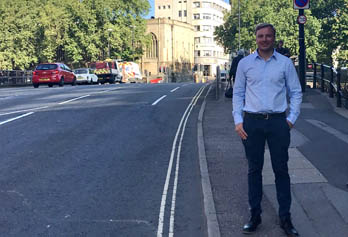 Kye Dudd, cabinet member for transport (pictured), said: 'All of these major changes to key Bristol roads will make a massive difference to the quality of our air as we divert traffic away from the city centre.
'These transformative measures will create a more connected future for everyone, with cleaner air, safer and better public transport, and improved walking and cycling routes. They will also support social distancing during the COVID-19 pandemic.'
Jon Usher, head of partnerships in the South of England at Sustrans, said: 'We are really excited to see the closure of Bristol Bridge and Union Street to the majority of motor traffic – making the city centre a safer, more enjoyable place for people to move around on foot, by cycle or wheel.
'This action will help to ease congestion, improve air quality, and support Bristol's public transport system, all of which are vital if Bristol is to make a green recovery from the COVID-19 pandemic.'
To enforce the restrictions, camera-monitored bus gates with signs and road markings to prohibit general motor traffic will be installed on Bristol Bridge, either end of Baldwin Street and at the bottom of Union Street.