Nicola Heath, project engineer at Telford and Wrekin Council, tells how the council's highways, transport, engineering and catering teams stepped in to help families experiencing financial hardship.
Throughout this year, but especially during the first month of the pandemic, my engineering role within Telford and Wrekin Council took on an extra special element, which I was proud to be able to undertake.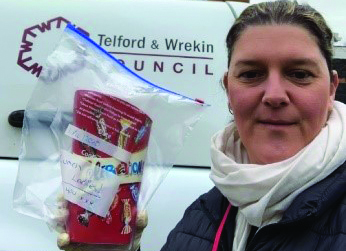 Following the prime minister announcing the introduction of a free school meal voucher system, there was a period of time where some children may have gone without a meal while this system was set up.
So our highways, transport, engineering and catering teams stepped in and within 48 hours over a weekend managed to organise a packed lunch for every child in the borough who were eligible for free school meals – that's a whopping 5,500 lunches each day.
We also organised teams of staff and transportation so we were able to hand deliver those lunches to each child's front door from the word go.
We delivered around 55,000 lunches over a two-week period! I happened to be one of the staff who hand delivered the packed lunches and I cannot express how rewarding that was.
For families that are suffering from financial hardship this was a true lifeline which, in an already stressful and uncertain situation, just gave them some peace of mind!
The children were amazing and we regularly had a wave through the window and little notes of appreciation, which just made me appreciate it more. Even though I am back undertaking my normal role, this is something that I will always remember being a part of.