Highways England and its partners Connect Plus Services reacted quickly to repair two sinkholes on the M25 on Monday night in time for morning rush hour.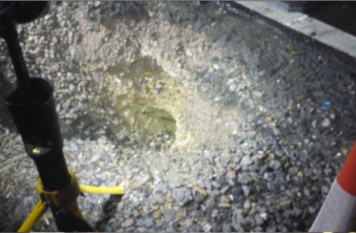 The sinkholes were discovered by Kent Police after a traffic incident near Sevenoaks.
The evening and night saw torrential rain and flooding on the motorway after a river burst its banks.
The Police tweeted yesterday: 'M25 jct 4-5 closed as a result of a single vehicle RTC which in turn has lead to to the discovery of 2 sinkholes in the central Reservation.'
A Highways England spokesperson today said: 'Two large sink holes appeared overnight on Monday in the central reservation on the M25 between junctions 4 (Orpington) and 5 (Sevenoaks).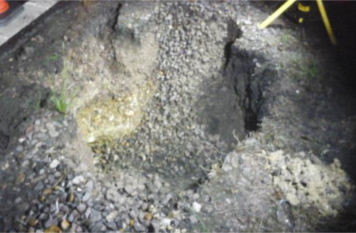 'The sink holes did not affect the road surface of the M25 but our assessment showed that we needed to close the M25 as a precaution while they were repaired. A full repair has now been completed, and we fully reopened the M25 in good time for Tuesday morning's rush hour.'
The Police also complained that motorists were 'ignoring our lights and bright orange sign advising to slow down' - once again raising the issue of worker safety on highways.
Luckily, the team did seem to arrive home safely after the difficult night - see tweet below - to some much needed rest.
**ALERT** M25 jct 4-5 closed as a result of a single vehicle RTC which in turn has lead to to the discovery of 2 sinkholes in the central Reservation. Awaiting @HighwaysSEAST to attend and assess. DS pic.twitter.com/nQtGolW3ez

— Kent Police RPU (@kentpoliceroads) June 10, 2019
Drive with extreme care.... currently at scene on M20 Jct 2-1 where river has burst its banks and now flooding M20 @HighwaysSEAST on scene. Amazingly everyone is ignoring our lights and bright orange sign advising to slow down!! #KillYourSpeed #NeedABoat #WetNightAhead pic.twitter.com/bbzfVRLJAZ

— Kent Police RPU (@kentpoliceroads) June 10, 2019
Wow what a wet night!! Team 3 finally home and getting to bed like.....#StaySafeOutThere #BackForMoreLater DS pic.twitter.com/wMGuWA3009

— Kent Police RPU (@kentpoliceroads) June 11, 2019