Highways England has spent just a fraction of its £100m fund to tackle illegal levels of air pollution on its roads, and has less than a year to go to spend nearly £70m of an initial £75m.
The inactivity and failure to have a concrete plan to tackle the problem of air pollution on its roads could mean Highways England is acting unlawfully, according to top environmental lawyers who have already won a succession of legal victories against the Government over its air quality plans.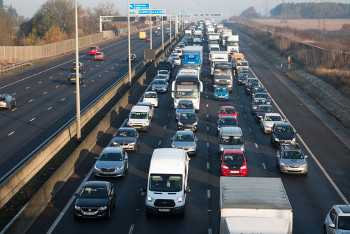 ClientEarth said pollution is assessed on a small number of Highways England roads but the latest figures still show that over a third of these have illegal levels of nitrogen dioxide (NO2) - some more than 1.5 times over the limit.
ClientEarth has written to Defra and the Department for Transport arguing that the Government's obligation under EU law to ensure measures are in place to reduce pollution to within legal limits in the shortest possible time means there must be a Highways England 'concrete plan of action to protect people's health'.
The news comes as it was revealed that Highways England has made little progress on spending its £100m air quality fund established under the Road Investment Strategy. Only £7.7m has so far been spent, on measures including support for the new electric van demonstration centre in Leeds.
Of the total £100m, the Government allocated £75m to the period from April 2015 to March 2020 - meaning time is running out to spend the cash.
ClientEarth clean air lawyer Katie Nield said: 'Thousands of people across the country are breathing toxic air which is making them sick. Children are particularly vulnerable. Illegal levels of pollution from traffic on major roads are a part of the problem, so it's hard to understand why ministers are trying to shirk their legal and moral responsibility to do something about it.'
ClientEarth has gone to court to force action from ministers over illegal levels of NO2 across the country, winning three cases since the beginning of 2015.
Under the latest government strategy, local authorities are mainly held responsible for tackling air pollution, which has led to local missed deadlines and a varied response from different councils.
The environmental lawyers said the Government has told local authorities that their plans to reduce pollution do not need to include Highways England maintained roads in their areas.
Ms Nield added that Highways England was a 'huge blind spot in the Government's strategy'.
'We need the upcoming Environment Bill to put a duty on all public bodies to act on air pollution, along with stronger legal limits that reflect World Health Organisation guidelines,' she said.
In its legal letter to the government, ClientEarth says: 'Whilst successive government plans have alluded to work being done to identify solutions, neither central government nor Highways England have yet set out what measures they are committed to put in place, or when they will take effect, in order to tackle the problem in the shortest possible time. Over eight years after legal limits came into force, a legally compliant plan to address continued exceedances on the [strategic road network] is still lacking.'
A Highways England spokesperson said in response: 'We are aware of the Client Earth letter. We remain committed to investing the £75m air quality fund through to the end of March 2020, as set out in the Government's Road Investment Strategy.
'Since 2015 we have been doing the necessary investigation to find meaningful and effective measures to improve air quality alongside our network; to date we have spent £7.7m, of the funds, including support for the new electric van demonstration centre in Leeds, which is being delivered in partnership with Leeds City Council, and electric charging points.
'We are also progressing the roll-out of the national air quality barrier programme, and continue to support local authorities with the delivery of their Clean Air Zones.'