'Prostate cancer is a nasty cancer to get and an even nastier one to die from, so avoid it. We have the tools.'
Chris Booth, clinical director CHAPS – the men's health charity – gave a powerful talk at the latest Road Safety Markings Association conference, outlining the 'pretty dreadful' state of men's health to the 'at-risk' highways industry.
'One man in five men is dying before the age of 65, compared to 12% of women' he warned. 'This equates to almost 70,000 preventable male deaths every year'.
'We sit on problems. We don't present early. We hide problems and we don't converse,' he told the mostly male audience.
Prostate cancer
When it comes to prostate cancer – the second biggest cancer killer in men, causing 47,000 new cases and nearly 12,000 deaths each year – men's failure to present is compounded by a lack of screening.
Former surgeon Mr Booth made a trenchant attack on the lack of a UK screening process, dismissing all arguments against it as debunked.
'The medico-political hierarchy allege that the harms of screening outweigh the benefits. This is a rubbish outdated argument.'
He pointed to a list of research papers that found a decrease in mortality from screening with 'benefits' ranging from 25% to 64%.
'White men's lifetime risk of getting prostate cancer is one in eight. For black men or bi-racial men of African or Caribbean descent, your risk is higher. It affects one in four black men. There is no screening programme in this country for prostate cancer. That is pretty disgraceful.
'If you catch prostate cancer early when it is inside the prostate you can cure it. The success rate is about 90%. If you wait until it is starting to spread outside the prostate that drops very quickly. By the time it spreads around the body you can't cure it. We can keep you alive for about 10 years with the various drugs.
'In terms of treatment and money, if you perform a radical prostatectomy, the cost is 30,000 Euros. If you wait until it spreads and you keep the patient alive for 10 years the cost is about 350,000. So there is an economic argument in favour of screening.'
A simple blood test
He pointed out that the prostate cancer testing process involves a simple blood test for PSA (prostate-specific antigen).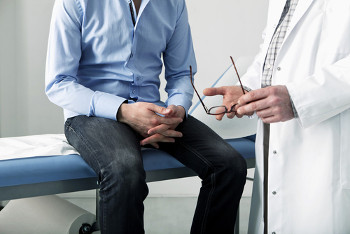 'You might hear from GPs that the PSA test is inaccurate. It is not inaccurate. It is a very accurate test but it is not prostate-specific. However, if your PSA is abnormally raised, you have a one in three chance there is an underlying cancer present. It is the second test done by specialists that tells whether you have cancer.
'We now do MRI scans of the prostate rather than biopsy if the blood test is abnormal. If the MRI does show something we can accurately target it with biopsy. We can tell the difference between aggressive and non-aggressive cancer now as well. In this country, our over-diagnosis rates have dropped right down and less than 4% of men are over-treated.'
An NHS health check is available for all men aged 40 to 74 and you can ask your doctor to do a PSA test. If they refuse you can insist, citing 'the prostate cancer risk management plan' sent out to all GPs.
Erectile dysfunction
A key warning sign of health issues is erectile dysfunction.
'The health of your blood vessels will determine the health of virtually every organ in your body and the best barometer for the health of your blood vessels in your penis,' Mr Booth said.
'If you take a bunch of guys who present with erectile dysfunction, but no other problems, you will find 60% have too much cholesterol in the blood, 50% will have high blood pressure and 56% will have a positive stress test.
'If you then go a bit further, 20% have blocked coronary arteries, 12% severely blocked. They have not complained of any heart disease. These are the guys who will drop dead at work or on the golf course.
'If you ask people who have had heart attacks the majority will have been impotent for two to three years before their heart attack. Impotence is a real marker of an underlying disease.'
So the message is; get yourself checked early and get yourself checked regularly. Don't wait.
(Or 'If you can't get it up, go see the Doc.')
The good news is that erectile dysfunction medication such as Cialis has been approved for treating benign prostatic obstruction. And a small dose every day helps the prostate and the penis.