A major project to widen around 2km of single carriageway on the A259 in Angmering and Littlehampton to dual carriageway has been delayed by the COVID-19 crisis.
The scheme, which covers two single carriageway sections of the road, also faces a further cost increase.
West Sussex County Council told Highways that the pandemic had led to a need 'to draw down on additional funding from Central Government, which was made available for this purpose' but that a current anticipated cost was not currently available.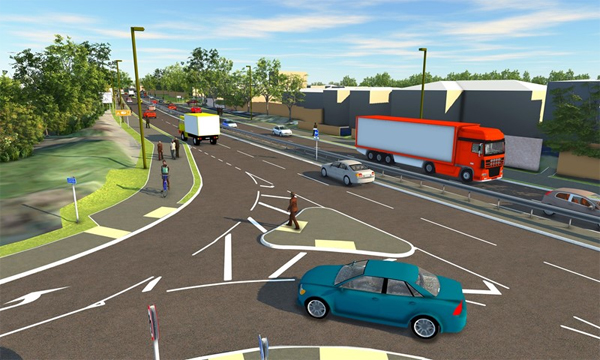 A visualisation of how the Olliver Acre junction at Littlehampton will look
The scheme has already seen a significant increase in cost, up £10.5m from an initial budget of £15.3m to a new budget, approved in June 2019, of £25.8m, including a risk element priced at approximately £1.5m.
The council said that while 'progress continues to be made' on the project, it is now forecast to be completed in the winter of 2022, rather than the autumn.
Site preparation, including vegetation clearance at the Angmering end of the scheme, was carried out in early in 2019. Further site clearance and Archaeological investigation work took place throughout August 2020.
The council said these works, as well as drainage works and preparatory earthworks works, had progressed well since, with main construction works beginning in September 2020, and utility companies had also been busy diverting their equipment to make room for the road widening.
However, progress has now slowed, particularly at the Angmering end of the scheme mainly because UK Power Networks is required to remove and replace a high-voltage electricity cable – 'a substantial piece of infrastructure' – at a cost of around £2m.
'However, during the Covid-19 crisis, UK Power Networks had to refocus its workforce to deal with the national emergency and work related to the pandemic, such as getting supplies to testing centres, Nightingale hospitals and so on.'
A spokesperson said: 'This unprecedented situation meant, understandably, they could not meet the demands of our programme.
'However, we have actively been working with UK Power Networks and our principal contractor, Volker Fitzpatrick, in re-planning the works to try to reduce the impact of this problem. By working together, we have been able to reduce the delay to four months, resulting in a revised estimated completion in the winter of 2022.'
A spokesperson for UK Power Networks said: 'We share the council's desire for this project to progress quickly and continue to work closely with our customer to complete this work as quickly as possible.
'We have appointed two contractors to accelerate our work and aim to complete the essential work on the cable diversion in September 2021. We plan to complete the remaining work after this, but this should not have any further impact on the construction of the dual carriageway.'
On Monday, the Department for Transport announced that it was providing £12m for the nearby Lyminster Bypass, a nearby £22m West Sussex CC scheme.