Road repair specialist Velocity has teamed up with ASI to offer the Rhinophalt preservative treatment for road surfaces.
Developed by ASI, Rhinophalt has been applied to assets around the world for 22 years.
ASI is also supporting Velocity with technical knowledge, carrying out a site-inspection survey together to determine appropriateness for the treatment and the design.
Installation is carried out with just one machine, usually operating at night under road closure. No compaction or heavy equipment is required, and because the profile of the road is maintained there is no need to raise ironworks, curb heights or thresholds.
The HAPAS-certified product is a resin containing Gilsonite, a naturally occurring bitumen, which is applied onto the road surface, penetrating to depths of over 30mm.
It sets hard in any microcracks and air voids, creating a very tough surface that can prevent deterioration for up to five years.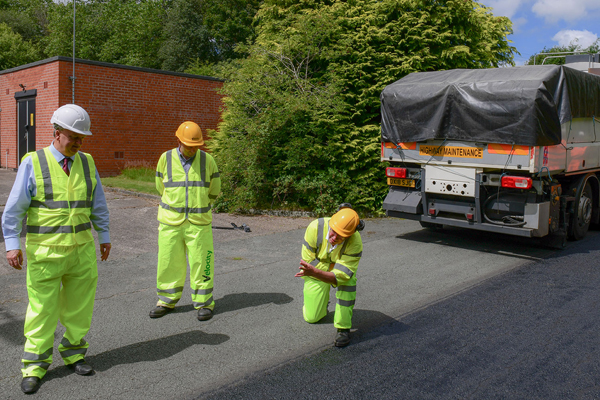 ASI managing director Dr Howard Robinson (left of picture) said: 'I approached Velocity because they've got a good track record of bringing through innovation and new technology into the roads market, and would be a very good fit for helping to introduce Rhinophalt preservation to the local authority sector.
'It will treat any type of asphalt that is in green to light amber condition, typically roads that have been surfaced with SMA or thin surface course systems that are around two years from requiring some form of maintenance.'
He added: 'Authorities that invested heavily in resurfacing works around eight years ago have now got a large amount of roads that are prime for treatment with preservation. If you don't treat it now, in two years' time you'll be doing a lot more to it, potentially filling potholes, cracks, even worse, having to resurface it.'
Gavin Blogg, Velocity's business development manager, said: 'Rhinophalt really hits the agenda of prevention rather than cure. The DfT have certainly looked into this and see it as the way forward for local authorities to maintain their asset in a good condition rather than applying more conventional treatments which are more disruptive and costly down the line.'