The expected completion of the Scottish Government's £18m A92/A96 Haudagain Improvement has been put back to the spring.
The Haudagain Roundabout is a major road junction in Aberdeen. In 2019 Farrans, a sister company of Tarmac and part of CRH was awarded a £17.6m design and build contract by Transport Scotland to reconfigure the junction.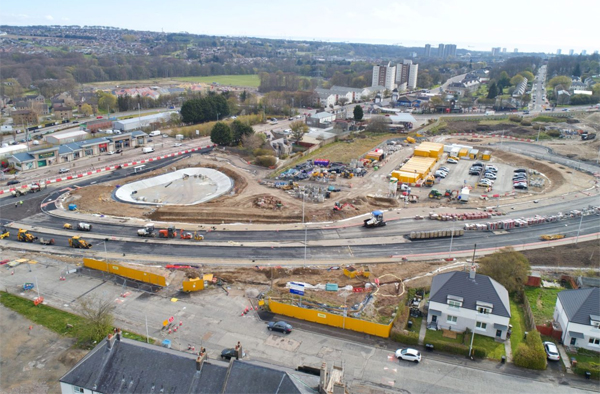 An earlier view of the project, which is now 'well advanced'
Minister for transport Graeme Dey said the project is 'well advanced and remains within budget'.
However, Transport Scotland said pandemic impacts, supply chain issues and recent storms had combined to push back timescales, with the project now opening to traffic by the end of March 2022.
The pandemic continued to disrupt progress this year with key work having to be rescheduled due to the impact on workforces.
Transport Scotland added that industry-wide supply chain issues affected the availability of materials hitting timescales despite the contractor taking mitigation measures by re-sequencing work and sourcing from alternative suppliers.
A large proportion of the remaining work, including road surfacing, could not be carried out during recent adverse weather including storm Arwen and Barra.
Mr Dey added: 'The contractor has reported impacts to programme critical work within the previous month due to adverse weather from Storm Arwen and Storm Barra. Until these recent events, our contractor had been able to maintain an anticipated completion date within the Winter 2021 period, despite the challenges posed throughout 2021 by the ongoing COVID-19 pandemic and industry-wide supply chain issues.
'We have consistently highlighted the potential risk such events could have in causing a delay to the expected completion date for this project. Likewise this revised date remains subject to no further disruption from events such as adverse weather or impacts from the ongoing pandemic.'