Highways England has selected Arcadis, in partnership with tunnels and operational technology specialists 4way Consulting, to support its tunnels, systems and products strategy.
The two-year contract is worth £1.3m and will include the development of a technology roadmap and a testing framework for tunnel technology products to support the delivery of an updated technology strategy for tunnel systems and ensure future products are tunnel-ready.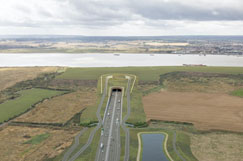 Arcadis said the outcomes of the project will influence the technology used and operating regimes at a national level, drawing on its ongoing work for projects including the potential new Lower Thames Crossing and Stonehenge tunnels.
David Threlfall, senior technical director for Intelligent Transportation System at Arcadis, said: 'It is really exciting for Arcadis to be working with Highways England to develop a strategy for future road operations technology and operating model in tunnels.
'We are able to include the tunnel experience and learning from our EU colleagues to make sure the outcomes are robust and practical and deliver optimum benefits.'
John Westwood, director at 4way Consulting, said: 'This is a fantastic opportunity for 4way and Arcadis to help Highways England develop its national approach to operational technology in tunnels.
'We have formed a great partnership that includes specialist expertise from our UK and European operations and will bring deep insight from our current tunnel projects.'
Last year transport secretary Grant Shapps gave planning approval for Highways England's A303 Stonehenge project, despite a recommendation from the Planning Inspectorate that the application should be rejected.
Highway England also withdrew its planning application for the Lower Thames Crossing after the Inspectorate said it was likely to rule against the scheme.