Highways England has launched the first of three new contracts under its new Asset Delivery operating model in the East of England from Tuesday (1 October).
The government-owned company said the new approach to maintaining and improving the strategic road network will see it take a more hands on role, directly managing both routine road maintenance and the delivery of capital renewal and improvement schemes.
It said this will result in 'better, more direct, decisions about road safety and maintenance, and better value for money from the multi-million-pound investment which is made into the region's roads each year' and would see nearly 130 staff join the company.
Martin Fellows, regional operations director, said: 'Bringing this innovative way of working to the East of England is another sign of our commitment to continually drive improvements in how the region's busiest roads are operated, maintained and improved.
'This change brings more knowledge and expertise in-house and will build upon the existing capabilities of both our staff and our supply chain. It will help us gain a stronger than ever understanding of the condition of the regions roads, providing the opportunity to make better decisions on what essential maintenance is need and how long it will last.
'And it also creates more flexible and efficient ways of working, that will underpin continual improvements to put safety, our customers and effective delivery at the heart of everything we do.'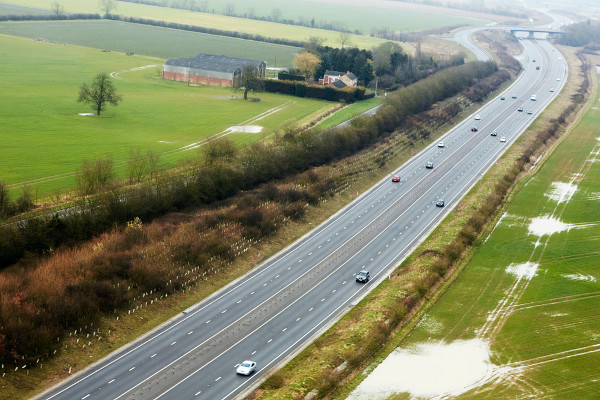 The M11 in Cambridgeshire
Highways England said the Asset Delivery model, which was first introduced in 2016 and replaces the previous Asset Support Contracts, has been rolled out across the country 'in a managed and sustainable way'. The East Midlands, South West and North West now have Asset Delivery in place, and the roll-out in the East will see more than 70% of the road network working under the model.
However, last year Highways England announced that it had given Kier Highways three-year extensions on its Area 3 and Area 9 contracts. This year it said these would operate under a 'Progressive Asset Delivery' model, which it described as a 'link' between Asset Support and Asset Delivery.
There are three main contracts associated with asset delivery – Maintenance and Response, Design Services, and the Construction Works Framework:
The East of England Maintenance and Response contract, which will be delivered by Ringway, includes routine highway maintenance services, repairs to defects, emergency incident response and severe weather services on the Highways England road network.
The Design Services contract begins in January 2020 and will be delivered by Atkins Global. The contract involves preparing technical designs and undertaking supporting work for capital projects from an initial scheme feasibility phase through to the as-built phase.
The Construction Works Framework commences in April 2020 and covers a range of activities that include renewal works to roads and bridges, and improvement scheme on the Highways England road network.
The East region includes the strategic routes in the counties of Norfolk, Suffolk, Essex, Cambridgeshire, Bedfordshire, Buckinghamshire and Hertfordshire.