A county council has said a very low noise surface on a bypass due to carry HS2 construction traffic 'is quieter than engineers expected' but may only last a decade.
Buckinghamshire CC said road noise levels on the A413 Wendover bypass have reduced by 5.2 decibels (dB) and are 'nearly one decibel quieter than predicted'.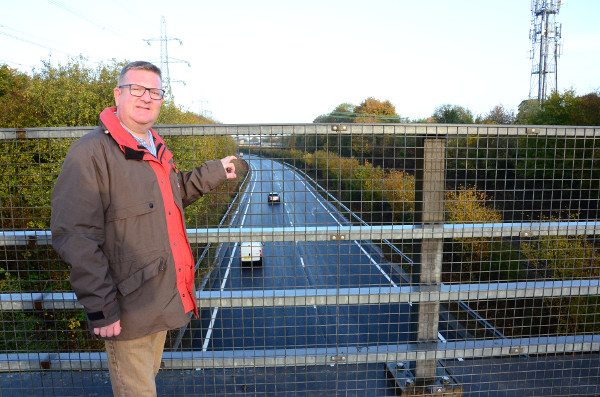 Cllr Mark Shaw 'surveys the very low noise surface laid on Wendover bypass'
The noise results are the outcome of monitoring last month, which involved hourly surveys at a public bridleway running parallel to the road.
Before the new surface was laid along a mile of the bypass, levels averaged 76.2 dB, but this has been cut to a little over 70 dB, the council said.
The new surface was one of four options from which Buckinghamshire 'invited Wendover to choose' to mitigate noise made by HS2 construction lorries when work starts on building the high-speed railway past the village.
Of 750 responses, 78% preferred a 'very low noise' surface, costing £1.51m and paid for by HS2 Ltd.
Another option, a noise barrier up to 4m high in three sections along half a mile of the bypass, was preferred by 7%.
Deputy leader and transport cabinet member Mark Shaw said: 'Now we've delivered on their choice, I'm delighted that the noise monitoring survey has shown such a significant reduction in noise levels.'
The council said the life expectancy of the new surface is 10 years. The compares with resurfacing with 'a hot bituminous material, which can 'give the new road over ten years life', according to the council's website.
According to guidance published in 2015 by directors' body ADEPT and the Mineral Products Association, asphalt concrete has a service life of 6-8 years, while hot rolled asphalt would be expected to last around 20 years.