Ministers have approved £60m towards a major upgrade of a section of the A361 North Devon Link Road, the cost of which has fallen by around £25m since the summer.
The Department for Transport (DfT) has approved Devon County Council's full business case funding for the Local Majors project, which was submitted in July.
At that time the cost was estimated at £93m; however it has since fallen to £67.6m, with the Government providing nearly all the cast required.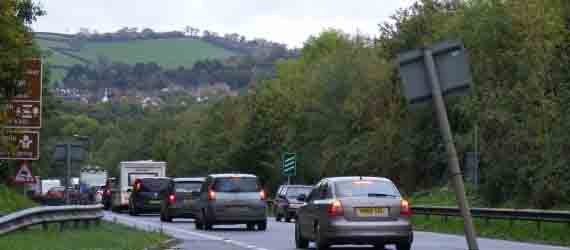 A spokesperson for the council told Highways that the change was the result of risks that had been included in the original figures not materialising.
These include lower than expected inflation and lower than expected costs on the planning application process and risks, such as challenges to compulsory purchase orders, land issues, and objections from third parties.
In addition, successful negotiations with landowners have led to design changes, such as a reduced number of retaining walls.
The route serves as a gateway to northern Devon and northern Cornwall, connecting to the M5 near Tiverton.
The improvement scheme involves work on a 4.8 mile stretch between South Molton and Barnstaple and will see sections of the road widened to provide better overtaking opportunities and eight junctions upgraded to improve safety.
Facilities for pedestrians and cyclists will be introduced with new segregated pedestrian/cycle crossings of the road at Bishops Tawton and at Landkey Junction.
The council said the scheme is expected to boost the local economy and will accelerate plans for 6,700 new homes in the region.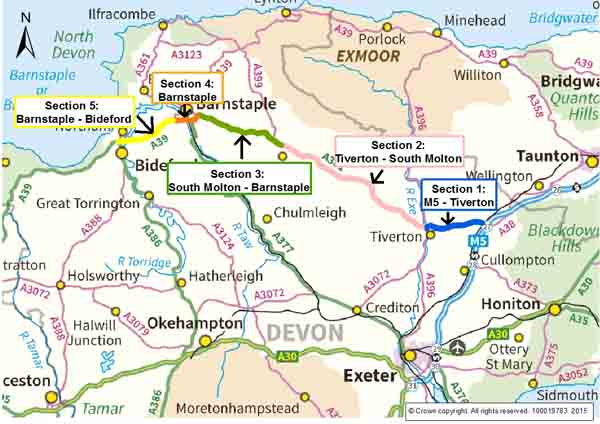 Andrea Davis, cabinet member for infrastructure, development and waste, said: 'This announcement is fantastic news for local residents and for Devon's economy. The upgrade of this road is the biggest transport investment in north Devon for a generation. It will help unlock the true potential of the local economy in northern Devon, and with the ongoing impact of the coronavirus pandemic, that is vital at this time.
'We have been working tirelessly on this project for a number of years so it's great to see that effort rewarded with this Government funding. We will now be looking to get work started as soon as we can.'
Although the scheme dates back to 2014 and the cash comes under a longstanding funding pot, transport secretary Grant Shapps described the funding as 'a clear indication of our commitment to levelling up and investing in transport infrastructure'.
Officials also linked the scheme to the prime minister's 'build back better' slogan.
Contractor Alun Griffiths has been appointed to carry out the work on the scheme, with detailed design set to get underway this month and the main construction work due to start in the new year.