Devon County Council is helping pioneer a standardised approach to highways carbon emissions with the creation of a data dashboard and best practice guidance.
Announcing the second phase of its carbon neutral 2030 strategy, the county council revealed it is working with the University of Exeter and the Future Highways Research Group to help monitor all carbon emissions from the supply chain through a single platform.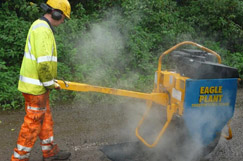 Cllr Stuart Hughes, cabinet member for highway management, said: 'This is a tremendously exciting period in the way we approach highway construction and maintenance. And particularly exciting that we are ahead in our thinking and commitment to cutting carbon from the work we do. My thanks to our partners at the University of Exeter, but also to our brilliant contractors for their equal commitment to improving the way we work.'
Having completed phase one of its strategy by developing a carbon calculator to help cut emissions from the design stage of road repair and construction, Devon has announced that phase 2 will be introduced in the next few weeks and is focused on tracking 'the actual carbon emitted at construction or repair stage'.
Devon said contractors will now share live data on completed projects, which will be run through a dashboard to produce a consistent read out for all highway schemes.
'We want contractors to report back on the quantity of work they have carried out; the materials they've used, e.g. asphalt type – the amount of that material; how it got to site; what kind of fuel was used to get it to site; how far it's travelled; the equipment needed on site, the fuel it uses and where it's come from; the waste created and what happens to that waste,' Devon said in a statement.
Devon County Council has also worked with experts at the University of Exeter to create an algorithm to crunch the carbon emissions data and create a dashboard to visualise it in a consistent way for all highways projects.
And the south west local authority is working with Future Highways Research Group to produce guidance and standards for other local authorities to use to identify and reduce carbon in highways.
The aim is to produce a standard way of identifying carbon and eliminating it, 'from design stage right through to construction or repair stage, across the UK'.
Dr Dan Lash, from the University of Exeter, said: 'We are delighted to be working with Devon County Council to produce calculation methods to quantify the impact of road maintenance projects on the contribution to climate change. We hope that this data can collectively be used by the Council and its supply chain to make more informed choices about the most sustainable measures that can be taken.'
Nicole Turley, Milestone Infrastructure Sustainability Manager, said: 'We are proud to be working in partnership with Devon County Council to address the climate emergency we all face. Milestone Infrastructure is committed to achieving a 40% reduction in carbon intensity across all our operations by 2025 and are committed to making further investments and environmentally based decisions to continue the pursuit of Net Zero for the benefit of future generations.'