Tarmac subsidiary Alun Griffiths will start work this month on a £4m roundabout scheme for Gloucestershire County Council.
The A38 Cross Keys roundabout connects south Gloucester with Junction 12 of the M5 and Stonehouse and is described by the council as 'strategically important for Gloucestershire'.
Works to improve the junction will start on Monday 13 May.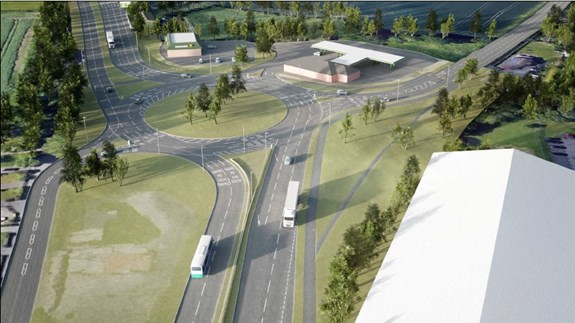 The council said the scheme is expected to cost £3.851m, mainly funded with cash through the National Productivity Investment Fund (NPIF), which was announced in October 2017 by the Department for Transport.
The remaining money will be made up from section 106 funding, developer contributions and the county council's highways budget.
Cllr Nigel Moor, cabinet member for environment and planning said: 'The Cross Keys roundabout is a crucial gateway to the city of Gloucester, it is one of our busiest junctions, and in need of improvement. Thanks to funding from the Department of Transport we are able to make progress on keeping this part of the county moving.
'I encourage anyone who lives nearby or uses this road on their commute to go to the drop in events and find out what the scheme is about.'
The proposed improvements include extra lanes on the approaches to the junction and an extra lane around the whole roundabout (circulatory).
The works will also provide a new shared path for pedestrians and cyclists. Street lighting at the junction will be improved and ducting for traffic signals will be installed to allow for the future upgrade of the roundabout once the nearby Huntsgrove development is complete.