The Highway Authorities and Utilities Committee (HAUC (UK)) has launched A five-year Vision for Street and Road Works in the UK 'to help deliver an economy fit for the information and carbon-neutral age'.
The organisation, which comprises utilities trade association Street Works UK and the Joint Authorities Group (JAG), said there is increasing recognition of the vital role that street and road works will play in the delivery of the UK's infrastructure priorities and that the Vision aims to turn these plans into reality.
The Vision outlines five main themes that will be 'at the heart of the industry's future work': digitalisation; innovation; skills and workforce; collaboration; environment and decarbonisation.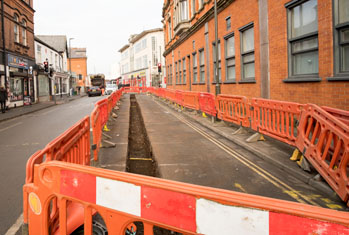 Clive Bairsto, chief executive of Street Works UK and co-chair of HAUC (UK), said: 'As the country has risen to the challenge of COVID-19, the vital work of the street and road works sector has come into the spotlight. I am proud of how we have worked together to support workers and ensure vital services are running to keep Britain moving forward.
'In the spirit of this collaborative approach, I am delighted to have worked with our colleagues at JAG(UK) to develop this HAUC(UK) Vision, which sets out a blueprint for the nation's infrastructure delivery over the next five years.'
David Capon, chief executive of JAG(UK) and co-chair of HAUC (UK), said: 'I have been deeply reassured by the industry's response to the pandemic and as we look ahead to building a better future for our country, local authorities and utilities will have a central role in delivering the vital infrastructure that will underpin prosperity.
'I am delighted therefore, to be supporting the launch of today's vision, which illustrates the collective goals shared by local authorities and utilities. To turn this vision into a reality, it's vital that we continue to work together by building on our common interests and demonstrating to government how our work will underpin their infrastructure ambition and upgrades.'
Under the heading of digitalisation, the document stresses the importance of greater transparency of information, which it says can help keep customers informed and demonstrate the quality of work being undertaken and the economic value it brings, as well as underpinning benchmarking and aiding organisations to work together more seamlessly.
In relation to the issue of skills and workforce the document acknowledges that the industry 'has an image problem'.
It adds that 'an adequately trained workforce of appropriately accredited personnel is a significant resource challenge to our sector already,' adding: 'We therefore need to be on the front foot to challenge misconceptions on the types of work and roles that are available in street and road works and demonstrate the career path for young and cross-career professionals joining the sector.'