Highways England is to close part of a key Yorkshire interchange at the centre of the M1 and M62 network later this month after bringing forward essential maintenance work.
The government-owned company said Lofthouse Interchange (M1 junction 42 / M62 junction 29) near Leeds requires an eight-week closure to allow engineers to carry out a £3.6m project on the roundabout's four bridges.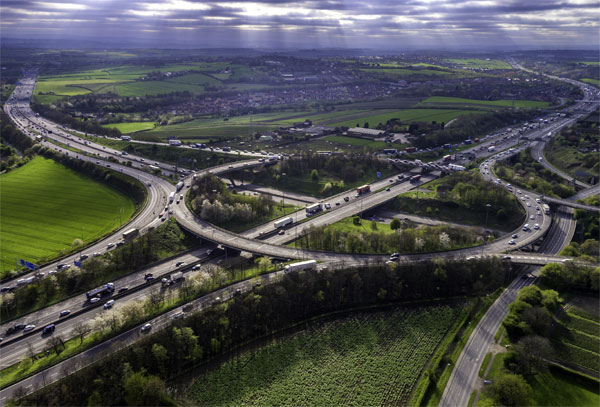 However, the junction's free flow link roads will remain open and diversion routes will be in place for all affected traffic.
The structure, which opened in 1970 and carries 45,000 vehicles per day, is a crucial intersection of the two motorways,
Highways England said closing the roundabout for the duration of the works means the work can be completed in the shortest time possible.
Project manager Russel McLean said: 'We understand completely that this work is going to have a large impact on drivers. We've looked at various options to complete this work and have spoken to local businesses and stakeholders to gather views.
'The best option we have is to close the roundabout for eight weeks. The alternative would be to carry out the work in separate sections but this would cause more disruption and require three six-week closures.'
He added: 'The roundabout has been experiencing problems with the bridge joints over the last few years. This scheme will allow us to carry out these essential repairs and do additional work to minimise the amount of disruption in future years.'
The work will replace the interchange's 20 bridge joints, five on each bridge. These help the bridge move in a controlled way when traffic passes over it and during severe weather.
The bridges will also be re-waterproofed and the roundabout will be resurfaced.
The work has been brought forward and is taking place over the summer months and when COVID-19 restrictions are in place so engineers can make the most of the lower traffic volumes.
Work to close the roundabout will start on 26 June and all closures will be in place by Monday 29 June.