Highways England has published the contract notice for the maintenance and response contract for its Area 12, worth £180m over eight years.
The national roads operator is looking for a suitable contractor to provide and undertake all routine and response maintenance, incident response, defect rectification and severe weather delivery on the strategic road network (SRN) within its Yorkshire and Humber regions.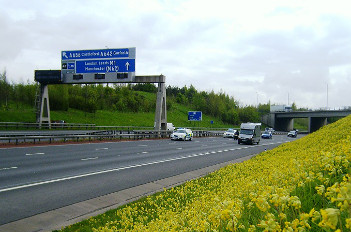 Additional duties will also include maintenance of roadside technology, the provision of traffic management for the contractor's maintenance and response activities and incidents (including traffic management for others) and where instructed by Highways England and the maintenance of depots.
Area 12 is currently maintained by A-one+ under a five-year Asset Support contract which began in 2016. However, the new contract, which has a value of £180m over 96 months, is a new-style Asset Delivery contract.
A Highways England spokesperson told Highways: 'We are committed to improving the maintenance and operation of our network and are in the process of introducing Asset Delivery, our future approach to operation and maintenance, in Yorkshire and Humber (Area 12). We have invited suppliers to bid for the eight-year, £180m maintenance and response contract, due to start on 7 June 2021.
'Asset Delivery consists of two contracts – Maintenance and Response, and Construction Works – that enable us to directly manage both routine maintenance and the delivery of capital renewal and improvement schemes.
Highways England sees the Asset Delivery model as a way of taking greater ownership of it assets, working alongside its supply chain to improve how it monitors, maintains and manage the SRN and helping to grow and develop its regional teams, strengthen its delivery programme and provide a better service for customers.
As part of the Asset Delivery programme, the government-owned company has been bringing in-house the asset inspection, monitoring, and management functions from its suppliers, including their asset databases.
It sees Asset Delivery as a more efficient and customer-focused model for managing assets across the SRN, moving it from a reactive to a proactive approach to asset maintenance.
According to the contract notice, applicants may demonstrate their suitability for a number of aspects in the selection process through providing their registration number for their valid and up to date account for Constructionline, the UK Government's national pre-qualification register for construction contractors and consultants.
Where applicants do not have a Constructionline account, or a valid and up to date Constructionline account, they will have the opportunity to demonstrate their suitability through other means.
Highways England said it will take into account any other maintenance and response contracts and asset support contracts held by the applicant company. 'A market resilience test will be applied to ensure the resilience of the Highways England network.'
The deadline for receipt of tenders or requests to participate is midday on 6 August.