Highways England has pledged to publish 'findings' from groundbreaking safety research into England's strategic road network (SRN) by the end of the year.
The research gives a star rating – between one to five stars – to road sections and reveals which areas on the trunk road network are currently below a benchmark target of three stars.
As previously reported in Highways, in 2016/17 Highways England commissioned transport experts TRL to map the whole of the SRN under the International Road Assessment Programme (iRAP) methodology.
The research was intended to provide a baseline for a pledge to improve the majority of one and two star rated roads up to three stars by the end of 2020. The government-owned company also has the target of making sure 90% of travel on the strategic road network is on roads rated three star or above.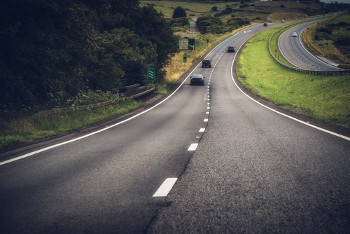 Dr Suzy Charman, executive director at the Road Safety Foundation, told Highways: 'The work being undertaken by Highways England is really groundbreaking and will, no doubt, inform progress in other countries and in local authorities here in UK.'
The Office of Rail and Road stated in its Annual Assessment of Highways England's Performance 2016/17 that the company had 'completed work to assess the safety of its network, based on a star rating system'.
A spokesperson told Highways: 'We will monitor Highways England's progress in improving the star rating of its roads throughout this road period. Highways England will be publishing details of its work to star-rate the network later this year, and we will review this to understand progress in the road period.'
Anthony Smith, chief executive of independent watchdog Transport Focus told Highways: 'Highways England confirmed last July that the star-rating work had been undertaken on the strategic road network.
'Road users will be interested to know how it scored against this international safety standard, so we encourage Highways England to publish the findings as soon as possible.'
Last October, Richard Leonard, Highways England's head of road safety, safety, engineering and standards, said: 'Work on the star rating of England's motorways and major A roads, which we are responsible for, using the iRAP Safety Rating Model is well underway: a baseline 2015 star rating of the SRN is being finalised and we expect to be in a position to publish the results during this financial year.'
A Highways England spokesperson has now told Highways: 'Highways England remains committed to publishing details of its work to star-rate the network later this year – this will include findings of the star-rating exercise carried out by TRL.'
A spokesperson added: 'Using the International Roads Assessment Programme (iRAP) Safety Rating Model (2010), on which the target was established, our network will achieve the 90% target of travel on 3 star roads by the end of 2020.'
The pledge to ensure that 90% of travel on the SRN is on roads rated three star or above is significantly easier to meet because motorways and dual carriageway A roads, which carry the highest volumes of traffic, are some of the safest roads.
Highways England has stated that the majority of roads below three stars are single carriageway A roads. On top of this road safety experts have told Highways that the majority of English A roads are below three stars.
Mr Leonard said: 'Safety is at the heart of everything we do at Highways England and we are committed to improving the safety of our roads, creating a network which is able to both reduce the severity of collisions and achieve our 90% target of travel on 3-star roads by 2020.
'The iRAP Safety Rating Model provides a simple and objective measure of the level of safety which is built-in to the road; we are currently reviewing the impact of latest model and are identifying areas where the model can be further developed and improved.
'We continue to invest in making our roads safer which will improve the star rating, a particular area of focus is single carriageways where the nature of these roads leads to a lower star rating – these routes have been prioritised for investment as part of our Designated Funds Safety Programme and we will invest up to £77m in this roads period.'
Highways England also told Highways that it has also examined the predicted rating of the SRN network, based on the model, in 2020 and for 2025, in view of planned major infrastructure investments.
It also noted that wider infrastructure improvements such as Designated Funds Safety and Maintenance will have a positive impact on the star rating, but that these are difficult to assess on a scheme level.