Highways England is set to tender a £3.6bn, six-year Operations Scheme Delivery Framework this summer, having published a prior information notice announcing plans for virtual market engagement.
Throughout the coronavirus crisis, Highways England plans to continue normal procurement processes, with a contract notice for the new framework set to be published in mid-June.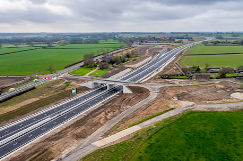 Malcolm Dare, executive director for commercial procurement at Highways England, told suppliers: 'I would like to stress that all planned and ongoing procurement activities are continuing and they will be published via normal channels. For instance this week we released the PIN for the £3.6bn, 6-year Operations Scheme Delivery Framework.
'C-19 related challenges might result in delays to our normal approval times but I would like to re-emphasise that we are continuing to operate as close to business as usual as possible.'
The PIN notice states: 'Highways England continues to roll out the asset delivery model to its operational areas. There is a requirement to deliver a range of renewal, improvement and selected small scheme construction works on the strategic road network in areas utilising specialist contractors working collaboratively with Highways England to deliver these works.
'It is envisaged that this framework will straddle two Road Investment Strategy (RIS) periods (RIS 2 and RIS 3) enabling a smooth transition between them. Works for schemes have been divided into a number of workstreams that align with the contractors' specialisms, and will also include design. Bandings have been introduced into the framework model to differentiate some contracting terms between bands.'
Highways England will be hosting market engagement activities to support the design of the procurement strategy for Scheme Delivery Framework (SDF).
Expressions of interest in joining engagement activities are invited from all levels of the supply chain from Tier 1 suppliers to SME's and an email notification will be issued with further details.
Interested suppliers are requested to email, providing full names and contact details to Procurement_SDF@highwaysengland.co.uk no later than 30 April 2020.
This may be the first time market engagement has had to happen virtually, with Highways England suggesting it may take the form of webinars, Skype calls or similar.
A briefing note is available via https://highways.bravosolution.co.uk - access 'View current opportunities and notices' and locate Scheme Delivery Framework (Project_2284) to download the note to view.