The team at Kenson Highways have played their part in the UK's fight against COVID through numerous schemes and ventures, all adding up to a major effort. After overcoming challenges to emerge Highways Heroes, Kenson gives an overview of the best of times and worst of times.
Looking back on 2020, it is difficult to describe the impact of such a rollercoaster. When asking opinions we have had many varied responses but the most common being oppressive, challenging and character-building, all of which we're sure you can agree with.
With the New Year, we would like to reflect on the positives we took from this unprecedented time.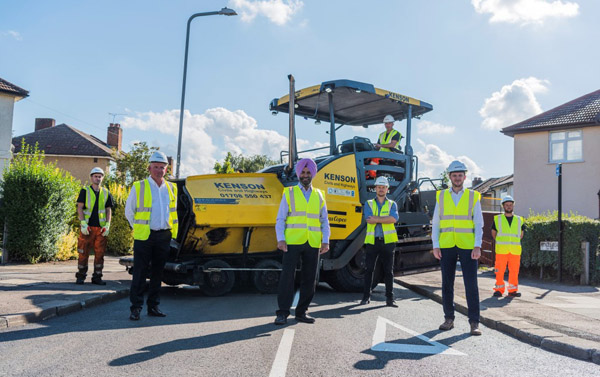 We have done some amazing work collaborating with the NHS, councils and residents in the surrounding areas of Redbridge, Enfield and Lewisham, making this year just that little easier and safer for everyone in it.
We are very proud to have been able to help, and however this year has affected you, we hope you are staying safe, healthy and positive.
Test centres
During lockdown 1.0 and 2.0, we facilitated the installation and removal of more than 120 test centres across various London boroughs.
In these troubling times we have been doing everything we can to support and keep the UK safe.
As essential workers, we have been tasked with keeping highways moving and providing emergency response teams to address dangers to the public. We helped set up COVID-19 testing facilities in Redbridge and Enfield arranged by the Government.
We worked in conjunction with the relevant local government entity, as well as the Armed Forces and supplied traffic management and marshals for testing everyone including key workers against COVID-19.
With co-ordination from the Armed Forces, various arms of the London Borough of Redbridge, Enfield Council and Kenson Highways, these test centres have had a great turnout and successfully tested many key workers.
Safety cordons
Implemented the cordoning off and opening of more than 1,000 public spaces such as seating areas/benches, outdoor gyms and play areas throughout the London Borough of Enfield areas helping to curb the spread of COVID-19.
In April, we were tasked by Enfield Council with cordoning off all public spaces in order to abide by the social distancing guidelines set by the Government.
With the evolving government guideline changes, we were quick to respond and cordoning or opening over a thousand of these spaces, allowing people to enjoy these public areas once more within social distancing guidelines within the first lockdown.
PPE to local authorities
During lockdown 1.0 we facilitated the collection and delivery of over one million pieces of PPE to local authorities (deliveries pictured below). We transported aprons, gloves and masks to the Redbridge Local Distribution Centre. These PPE pieces went on to local hospitals and key workers within the London Borough of Redbridge.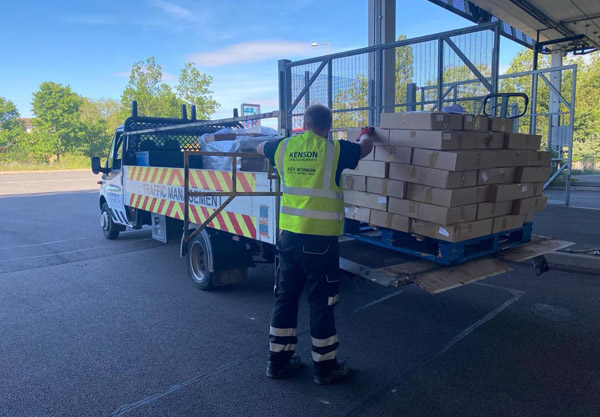 Re-opened a recycle centre
In preparation for the re-opening of Redbridge council recycling centre after the closure due to the first lockdown, Kenson Highways were tasked with providing traffic management.
We always endeavour to give the best support and service we can and for this request we used site-specific bespoke signage to make sure the opening was a success and traffic flow was maintained.
On 11 May 2020, the recycling centre opened successfully with effective traffic management throughout the following weeks.
Business as unusual
Of course, infrastructure delivery continued throughout 2020, with key workers on the frontline achieving milestones despite social distancing and the new health and safety guidelines in place. Here are some o the projects Kenson worked on this past year.
Ilford Town Centre project
We are proud to be working with The London Borough of Redbridge, delivering the Ilford Town Centre Transformation Project. This multi-million-pound boost has seen major street improvements and the transformation of Ilford High Road back to its former glory. These ambitious plans have created new, high-quality, accessible public spaces and alongside the arrival of the Crossrail works, the major street improvements will help to revitalise Ilford Town Centre.
Kent Resurfacing Projects
Throughout lockdown 1.0 to 2.0 we maintained our essential resurfacing works on Kent County Council's infrastructure. Taking advantage of reduced traffic, important routes were resurfaced causing less disruption and helping to keep road users safe.
London Redbridge Resurfacing Scheme
Redbridge Council and Kenson have been working together to deliver a substantial £6m investment scheme in the road network across Redbridge. This scheme will see in excess of 75 roads resurfaced from main strategic routes to residential roads providing the residents of the London Borough of Redbridge a safe and durable road network.
Enfield Netball Courts
The Enfield National Netball Courts Construction will see nine courts revitalised with a full reconstruction, including the installation of floodlighting, which will allow North London's prestigious netball courts to be played on throughout the year.
The works are crucial to the continuation of the North London Netball League (NLNL) which has been based at Broomfield Park since 1950. There are no other netball facilities of this size and popularity in the North London region.
Clayhall Alleviation Scheme
We are proud to be working with the Environment Agency to bring the Clayhall Flood Alleviation Scheme to the residents of Hurstleigh as well as the local playing fields. Once this scheme has successfully been completed the new structure will protect the houses fronting Hurstleigh playing fields and the fields downstream of the new bund.
Installing Electric Charging Bays
With global climate change a key issue, throughout lockdown 1.0 we worked with local government to do our bit by installing electric car charging bays. This is just one of the many ways in which we are supporting sustainability and climate change.
Emergency Reactive Maintenance Contracts
From laying kerbstones, renewing paving to fixing potholes, Kenson's reactive team are made readily available to councils 24/7. We are proud to say we have supplied reactive maintenance in Redbridge and Enfield through lockdown 1.0 and 2.0.
Want to know more, please visit our website at www.kensonhighways.com
.
#HighwaysHeroes