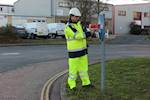 Road signs tested on Isle of Wight
12/01/2015
Island Roads, the highways service provider working on behalf of the Isle of Wight Council, has recently invested in a retro-reflectometer to carry out visibility tests on road signs.

Isle of Wight gets flood response unit
17/12/2013
A fully equipped flood response unit, thought to be the first in the country, is now on standby to help keep the Isle of Wight's roads clear from flooding.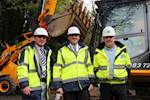 Island company set for Undercliff work
06/11/2013
John Peck Construction has been awarded the contract to carry out the first major road stability scheme at Niton's Undercliff on the Isle of Wight.

Apprentices join Island Roads
19/09/2013
Six Islanders are on the road to a successful career in highways engineering and maintenance after taking up apprenticeships with Island Roads.