Kiely Bros' Ltd is on the verge of completing £4.56m of surface dressing improvements throughout Cumbria, including scores of individual projects since April.
Working with Cumbria CC, the team has carried out 82 individual projects covering around 120 miles of road, equivalent to 900,000 square metres of surface, or 126 football pitches.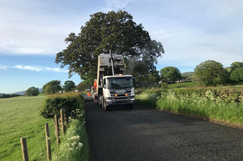 The surface dressing itself extends the life of the road, sealing the surface and adding texture to help prevent more costly options such as full reconstruction of the road.
Kiely Bros also had a strong focus on sustainability with around 10,000 tonnes of chippings being collected from the surface dressing projects and returned to the central stockpile to be recycled and re-used next year.
Cllr Keith Little, Cumbria CC's cabinet member for highways, said: 'This essential package of road maintenance works has improved 82 sections of routes across the county, making journeys much smoother for drivers and extending the life of the road.
'We understand the importance of the road network in Cumbria and the surface dressing works were co-ordinated to minimise disruption and delays.
'I'd like to thank the teams and engineers involved in the works for their hard work, very often in challenging conditions.'
James Goodwin, contract manager from Kiely Bros, said: 'Delivering a surface dressing programme of this size takes a large team of operatives, inspectors and engineers working alongside each other 12 months of the year.
'Cumbria County Council and Kiely Bros' collaboration has ensured that these works have been delivered efficiently, safely and with minimal disruption to road users. We have been able to closely work together throughout, maximising our resources, to achieve a common goal.'
The value of works in each district are as follows:
Allerdale £570,00
Barrow £319,000
Carlisle £710,000
Copeland £319,000
Eden £1.17m
South Lakeland £360,000
Almost all the projects have been completed on schedule, with a few exceptions in South Lakeland due to weather which will be completed in the autumn. Replacement of the road markings continues.
Cumbria has 4,908 miles of highways.