UK temporary works specialist Mabey Hire has launched EVE – a new design solution that utilises immersive technology to give users a 'digital dress rehearsal' and virtual walkthrough of a works site.
Integrated with BIM workflows (including Autodesk Revit, Civils3D and Navisworks), EVE allows users to visualise and explore the engineered temporary works scheme in-situ, all without leaving their desk.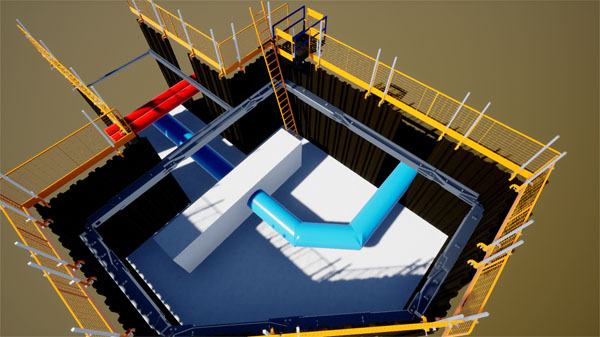 Building on Mabey Hire's commitment to digital innovation, EVE enables all teams involved in a project – from engineers and contractors to clients - to more effectively spot potential issues or design clashes and visualise potential solutions.
It can also be used to improve the safety of workers once on site. Teams can explore the temporary works scheme as it will appear in the real world, effectively offering 'a dress rehearsal of the works being carried out, including project phasing'.
Users can make annotations within the virtual environment and view model data, including weights and dimensions.
Dave Holland, monitoring and technical director at Mabey Hire, said: 'Digital engineering has long been heavily embedded within our business - we're always striving to stay at the forefront of industry innovation. For example, we were the first temporary works provider to receive the BSI Kitemark for BIM, as well as BIM Level Two certification for Design and Construction.
'EVE is the latest example of this commitment to digitisation and innovation, further enhancing our collaboration with customers and enabling us to provide the best possible engineered solution for their individual project needs. Helping to bring a project to life, it works to push the existing benefits of 3D modelling even further, creating a more immersive experience.
'As well as being a great client engagement tool and helping to engender client confidence in the temporary works design, we also hope that EVE will serve as a catalyst for further digital innovation within the temporary works industry – a sector that has previously been somewhat overlooked.'