SWARCO and SRL Traffic Systems have agreed a significant new collaboration in the VMS industry.
SRL have purchased 100 mobile VMS from SWARCO in a deal valued at in excess of £2.25m.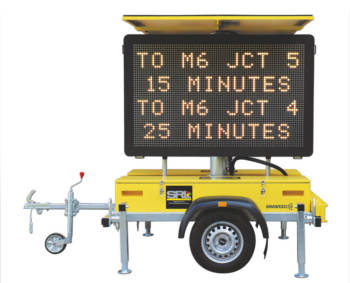 The solar-powered signs are equipped with energy efficient LEDs capable of displaying full colour text and images with no restrictions. SRL will be managing the signs via SWARCO's intelligent Zephyr solution that enables messages to be set from anywhere and at any time, remotely.
Zephyr enables scheduled or emergency mesaages to be programmed in, while each of the mobile units can be located and tracked via GPS.
Alison Spooner, commercial director at SRL Traffic Systems, said: 'It's our priority to provide our customers with the best products and technology available. SWARCO's systems deliver reliability, flexibility and ease of use.'
Andrew Walker, business development manager at SWARCO Traffic said: 'We see this is as the beginning of a long-term collaboration between two best-in-class organisations.'
SRL Traffic Systems owns and operates Europe's largest traffic light hire fleet, and this initial investment by SRL is expected to be followed by additional investment in the near future.