Civil and electrical engineering firm McCann has appointed a former Costain and A-one+ boss as its new strategic highways director, as it embarks on a major growth strategy.
Clive Leadbetter will take on the new role, which has been created to support McCann's ambitious three-year growth plans.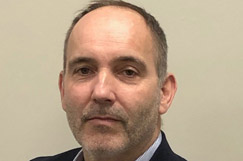 The company hopes to expand the business by £60m - £150m over that time by harnessing its specialist skill sets to win more major infrastructure projects in the UK.
This includes Highways England's frameworks, multi-utility projects and other significant civil and electrical engineering contracts where McCann can be named as principal or Tier 2 contractor, the company said.
Mr Leadbetter joins the Nottingham-based firm after working for more than 20 years with Costain, as well as a successful spell as the managing director of A-one+, and brings a wealth of experience working within both the energy and utilities sectors.
He said: 'For me and the wider team, the aim is to continue to raise the bar in terms of our quality, service and commitment to excellence in order to go to the next level and directly contract with clients as often as we can.
'My role is to forge even stronger relationships with Highways England and other key clients in order to make McCann a household name as a trusted go-to partner that can solve problems and work in close collaboration to provide innovative solutions.
'We have the necessary tools and experience at our disposal to accomplish this and I am confident that with our in-house expertise across all areas of civil, electrical engineering and technology, we can achieve our ambitions of not only continuing to work as an established tier 2 contractor but evolve into a more widely recognised principal contractor.
'From the moment I first spoke to John McCann, I could see that the right culture and behaviours already existed from which we can base ourselves and deliver on John's long-term ambitions.
'The whole ethos of the business is about developing people and creating a culture where everyone can thrive, innovate and play their part in shared success. That's what sets this company apart for me, and I think we're embarking on a really exciting journey which will see us go from strength to strength over the next three years and beyond.'
Managing director John McCann, said: 'Our three-year growth plan is about growing all areas of the McCann Group. We're well known for providing quality solutions in LED lighting and associated infrastructure, which is great, but I want us to be known for our ability to provide complete civil and electrical engineering solutions for clients - from project conception through to completion.'
'From highways, motorways and rail, to energy, new home developments and multi-utilities, we have the resource and the expertise in-house to be that trusted full-service partner that people can call upon any time, anywhere, for any project. Clive is here to promote these capabilities and build those key, strategic relationships that will unlock more doors for us in the future - and I'm delighted to have him on board.'