McCann has won a £117m contract for full fibre broadband roll-out across Nottingham.
The Midlands city is the latest location where construction is underway of CityFibre's £4bn Gigabit City Investment Programme, targeting full fibre roll-out to up to eight million premises across more than 60 towns and cities across the UK.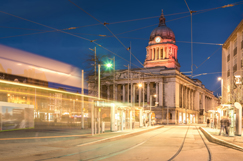 Construction in Nottingham has already started and is due to last for up to six years - bringing almost all residents, businesses and public sector sites in the city within reach of gigabit-speed broadband services.
McCann is based in Nottingham and operates nationwide on a range of civil and electrical engineering projects, including smart motorway infrastructure, LED street lighting installation and maintenance, ICP connections and associated civil engineering works.
On awarding the project to McCann, CityFibre's city manager for Nottingham, Dominika Walker, said: 'Our strategy is to work with and to reward successful contractors with long-term, regionally-based work, enabling them to grow alongside us. CityFibre offers a real, sustainable and compelling alternative for the construction supply chain in telecoms.'
John McCann, managing director at McCann, said: 'CityFibre's commitment to delivering the latest in full fibre technology to the city of Nottingham is both commendable and exciting. The scheme, along with similar projects across the UK, will transform large areas - gearing them up for the future of connectivity in order to attract businesses, visitors and improve the lives of residents.
'This is a landmark project for our team to be involved with. We are delighted to be on board and look forward to commencing work in order to turn vision into reality and ensure a very bright future for the city of Nottingham.'