Local government transport funding should be overhauled by pivoting away from competitive bidding and putting in five-year budgets, according to the National Infrastructure Commission, Westminster's main independent advisor on infrastructure.
The National Infrastructure Commission (NIC) highlighted that as well as reforming the funding system, the amount spent on local transport outside London each year should increase by around 40%.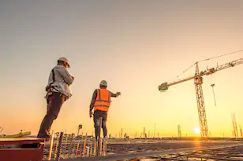 The Government should also support financial devolution with transport authorities given five-year budgets of their own as 'a reliance on competitive bidding is not compatible with government's aims', the NIC said.
In its latest report focusing on the levelling up agenda in towns, the NIC argued: 'Government is not well placed to identify what the priorities are for any particular place, competitions may have the effect of directing funding towards authorities with administrative capacity rather than where the greatest infrastructure challenges really are, and it is very resource intensive for local authorities.'
It highlighted that local authorities find it difficult to develop and deliver effective infrastructure strategies due to the current funding system for local transport.
Around a third of local authority funding is provided by central government and the NIC understands the Department for Transport has around 15 different funding streams for local transport in towns at present.
These funds are often provided 'on a short term basis, have conditions on what funding can be spent on, and well over half of the available funding is allocated through competitive bidding', the NIC found adding that these conditions 'do not allow local authorities to plan effectively'.
In order to simplify the funding system, cash 'should be allocated on a simple basis that reflects population and the size of the transport network being managed' the report argues.
Extra funding could be targeted at areas where focused infrastructure investment is most likely to transform a town's prospects - 'especially places that need better connections to a larger neighbouring settlement or have a particular economic opportunity at hand'.
There are 74 county councils and unitary authorities which are responsible for strategic transport planning, outside of combined authorities and London.
The commission noted that there may be opportunities for more transformative changes in some towns, particularly where they are close to cities or where infrastructure investment could enable a town to take advantage of changing economic conditions.
Social research for the report showed that improvements to roads were the main infrastructure priority for residents in towns. The car is the most popular mode of transport for journeys in England and the number of cars per household is higher in towns than cities.
It also notes that local public transport systems are important and deprived areas in some towns do not have good public transport services: 'taking public transport to work can require several forms of transport and there is a lack of early morning and evening services'.
'Better public transport connections, within towns and to nearby cities, were also ranked as a priority for many residents of towns in the Commission's social research, particularly by those who lived in smaller towns and rural areas,' the report states.
A new innovation fund should also be created to support local trials and the government should publish the electric vehicle charging infrastructure strategy, 'without further delay, followed by a roadmap for the rollout of electric vehicle charging infrastructure in towns'.
Our sister publication, the MJ has an article on this issue from Bridget Rosewell, a member of the NIC.