A long-awaited appraisal of options to improve the resilience of the A83 at Rest and Be Thankful is underway.
Transport Scotland said 11 potential options are being considered as part of Phase 1 of the second Strategic Transport Projects Review and, in parallel to this, a dedicated project team is being established to undertake more detailed environmental and engineering assessment, as well as stakeholder engagement.
Work will begin on the next phase of catch pits in September.
Proposals for further catch pits are being considered, and a new geotechnical survey of the site will be carried out.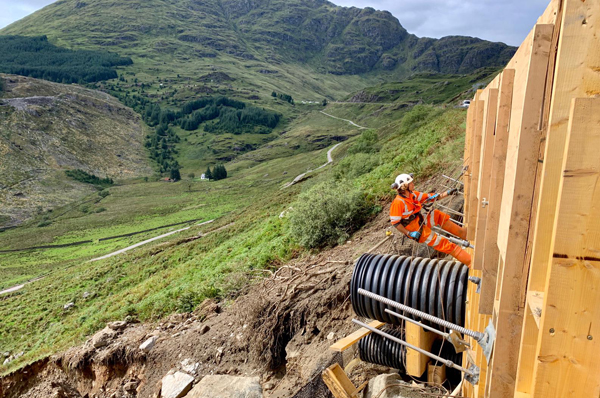 The road has been subject to a succession of landslips and is currently closed following a major landslip earlier this month. Bear Scotland said on Thursday that the road is expected to re-open under traffic light control by Monday 7 September, with the local diversion route via the Old Military Road open in the meantime.
Michael Matheson, cabinet secretary for transport, infrastructure and connectivity, outlined his Government's plans to members of the community and local elected representatives at a meeting of the A83 taskforce on Thursday morning.
He said: 'I understand the frustration and disruption that landslips at the A83 Rest and Be Thankful bring for local communities and drivers.
'While our previous investment in catch pits has helped keep the road open for an estimated 48 days when it would otherwise have closed, I realise people are looking for a long-term solution to dealing with landslips at the site.
'I have instructed officials at Transport Scotland to accelerate our work to consider alternative infrastructure options for the A83. A dedicated team will be established to do a more detailed assessment, in parallel with the Strategic Transport Projects Review. Stakeholders will be involved in this process and we will publish recommendations for a preferred corridor in Spring 2021.'
Aileen Morton, leader of Argyll and Bute Council, said the move followed pressure from communities and the council.
She said: 'Whilst we are relieved there is now a recognised case for investment along with a continuation of temporary mitigation measures, we need to move beyond these measures.
'What we need are construction timescales and a date for the new route to open. It is simply not enough to talk about the options and agree a consultation phase.
'For years, closure of the A83 has seriously impacted our communities. The early signs are encouraging but we must see swift progress maintained until the new route is fully operational.'