Construction plant operators holding a skills card under so-called 'grandfather rights' will have to pay to undergo a competence interview to keep the certification beyond 2025.
The move was announced by NOCN Group, the Construction NVQ Awarding Organisation that operates the Construction Plant Competence Scheme (CPCS). The Competence Interview can be undertaken at any CPCS Test Centre for a maximum fee of £160.00.
It comes in response to a decision that skilled construction plant operators holding a 'blue card' originally obtained without a formal qualification will not be able to renew them after December 2024.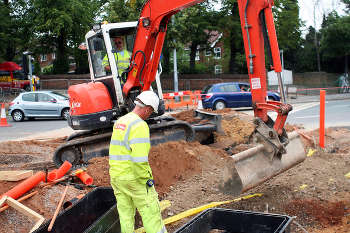 The interview will allow these card holders to continue work on-site from 2025 without the need to either switch to a red 'Trained Operator' card or complete a Level 2 Vocational Qualification.
Trevor Gamble, chairman of the CPCS Management Committee said: 'The current blue cardholders' status will be unchanged up to and including 2024.
'CPCS is currently working with industry to ensure that those blue card holders not holding a NVQ/SVQ at Level 2 will be supported to ensure their current status will be retained.'
NOCN Group managing director Graham Hasting-Evans said: 'As the leading Construction NVQ Awarding Organisation, we are able to quality assure this competence interview to the same level as that expected of a Regulated Qualification, allowing operators to continue to work on-site with a renewal deadline of 2024.'
Workers undertaking the competence interview will be expected to answer questions in a number of areas based on their 'knowledge, skills and experience'.
NOCN said those undertaking the one-off competence interview will be issued with a new smart card that is 'topped up' to its original expiry date to ensure a smooth transition. It recommendeds that the interview is completed by June 2024, i.e. no less than six months in advance of the December 2024 deadline.