Highways England has broken up its £400m concrete works for the second road investment strategy (RIS 2) into four elements.
The government-owned company has released a prior information notice on a three-part £330m programme across 2021-2025 covering design consultancy services, reconstruction and lifecycle extension frameworks. Contract notices on these frameworks are expected next month.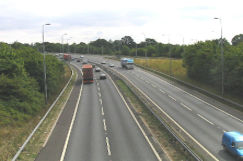 Highways England said the strategy is to procure the three frameworks as follows:
Design – two suppliers providing full design, technical assurance, site supervision and project management capability. To deliver designer/supervisor/project manager for lifecycle extension works and to provide initial design and then technical assurance for the design and build reconstruction works;
Lifecycle extension works – a multi-lot specialist contractor framework that will deliver focussed repairs to maximise the life of the existing concrete pavement; two suppliers for each of the following specialisms: joint repairs, bay replacements, surface treatments and slab levelling (eight suppliers in total);
Reconstruction works – two suppliers to be appointed on a design and build arrangement with works to include demolishing existing pavement and replacement with new (flexible or composite), overlaying of concrete pavements and changes to or replacement of associated assets such as sub-surface drainage. The large volume of excavated concrete pavement is to be recycled for reuse in the concrete roads programme or more widely in delivery of Highways England's capital programme.
Highways England told Highways: 'The services being procured through this PIN will be a four-year framework from 2021 – 2025 up to a value of £330m. We need to do some investigative work – largely surveys – in year one of this roads period (2020). This work is valued at circa £70m and is being procured separately off an existing framework. This makes up the remainder of the £400m that was published in the RIS.'
Highways England's strategic roads network (SRN) includes approximately 1,000 kilometres of concrete pavement.
'This concrete pavement, defined as Legacy concrete, comprises either exposed concrete or concrete with a covering of no more than 50 mm of asphalt. It has now exceeded its design life and anticipated traffic loads and we need to renew or significantly repair it,' it said.
'Highways England's philosophy is to repair the good concrete and maintain it in a safe state of repair until full reconstruction becomes needed.'
In the RIS 2 document it says: 'Switching from old-style concrete to other surfaces requires the full reconstruction of much of the road, and the volume of work required is equivalent to building a motorway. All of this must be accomplished in a way that does not deprive communities of roads that are critical to their way of life.
'It will take around 25 years to complete the task in full; but the process begins now, with around £400m of investment over the period 2020-25. Around half of the old-style concrete pavement on the network will either receive holding repairs, or will be replaced entirely during [roads period 2 2020-2025] RP2. Several of our major projects, such as the improvement of the A12 in Essex (pictured), will also result in outdated concrete pavement being replaced with an entirely new, modern road surface.'
Highways England intends to host a tender launch event or series of events anticipated to be in May.
Further details will be issued. Given the current situation of social distancing; this may take the form of webinars, Skype calls or similar.
Expressions of interest are invited with interested suppliers requested to email, providing contact details, to: concreteroads@highwaysengland.co.uk no later than 1 May 2020.